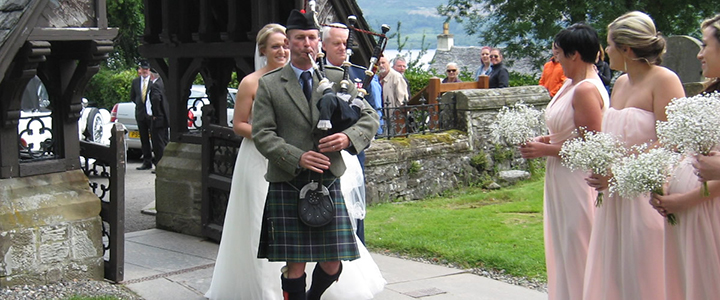 Nothing else more clearly says "Celtic wedding" than having a  genuine bagpiper included in your ceremony. Did you know Bagpipers are actually considered good luck? It's an old custom to have the piper be the first one to greet the bride, thus ensuring a long and happy marriage. But of course the whole point of hiring a piper is the traditional music. It's a timeless gift to be enjoyed by everyone attending your wedding — a sure way to make it memorable.
HOW DO YOU HIRE A BAGPIPER FOR YOUR WEDDING?
Many professional pipers have websites. Or you can find them by searching facebook profiles. Your wedding planner may have contacts for pipers in your area. Another option is to look up local bagpipe bands — most pipers who do weddings also play with a pipe band. Once you have a name, check for reviews.
LISTEN TO SAMPLES OF YOUR PROSPECTIVE PIPER'S MUSIC.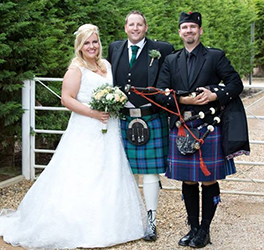 Most pipers who perform weddings professionally are typically highly trained musicians. Be cautious if a friend suggests someone willing to play for free. Hobbyists may mean well and come cheaply, but the music may not be all that great. Be sure to listen to samples of them playing. Most pipers these days will happily share clips on Youtube.
HOW DOES A WEDDING BAGPIPER DRESS?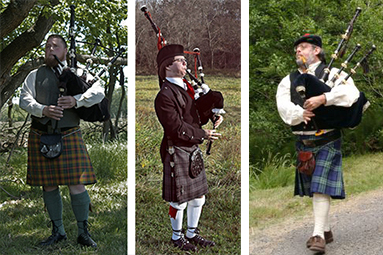 Naturally, he will be kilted. Most professional bagpipers will have a basic Argyll jacket and vest as part of their kit. Some may also be able to dress in different styles to suit your wedding's theme. For example, a tweed set for a more rustic theme, or a highland shirt for a romantic, historical or Renaissance theme.  Ask them what they can, or are willing, to do. But always remember the playing is far more important than the uniform.
WHEN SHOULD THE WEDDING BAGPIPER PLAY?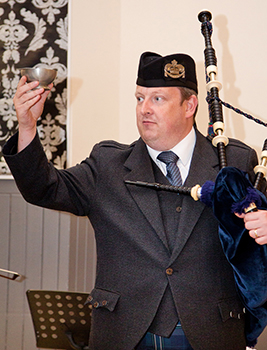 The clear answer is "whenever you want them to play." But typically a piper will be hired to do one or more of the following:
As guests arrive.
 Process the bride in.
To accentuate moments during the ceremony – for example as background while the handfasting cord is tied, or a unity candle lit.
Process the new couple out.
As guests leave.
Introduce the couple at the reception, usually by leading the Grand March.
 Performing the Quaich Ceremony (non-musical)
WHAT TRADITIONAL CELTIC WEDDING MUSIC CAN YOU CHOOSE?
If you are not sure what songs you'd like your wedding bagpiper to play, ask them for suggestions. Their repertoire will include many jigs, reels and marches and they will have personal favorites they are especially good at playing. They will also know these popular tunes, which are wedding classics:
Glendaruel Highlanders – a happy, energetic tune ideal for welcoming the groom and bride as they approach the wedding venue.
Bluebells of Scotland — a beautiful and heart-stirring tune which adds romance to the ceremony.
Highland Wedding – another joyous song often used for the recessional or as a more Celtic alternative to the Bridal March.
Scotland the Brave or Mairi's Wedding – both great choices for the Grand March – the ceremonial entrance of the wedding party and guests into the reception hall.
Flower of Scotland — a beloved national song, almost an unofficial national anthem. You can enjoy this almost any time during the ceremony or reception.
Other Traditional Celtic Tunes for the Wedding or Reception:
Scottish:
   Rowan tree
   Wings
   The Green Hills of Tyrol
   Highland Cathedral
   Murdo's Wedding
Irish:
   Wearing of the Green
   The Minstrel Boy
   Merrily Kissed the Quaker's Wife
   The Silver Spear
HOW MUCH SHOULD I SPEND ON A WEDDING BAGPIPER?
Most pipers offer an hourly rate. The current average is between $150.00 and $200.00. One hour's worth is an unofficial minimum and includes at least one song performance, as well as the piper's travel time and costs. If all you need is for them to process you in, you will probably pay for an hour. One hour could also include some background music as the guests arrive at the venue. If you want the piper present throughout the ceremony and at the reception, you will of course pay more.
WHAT WILL THE WEDDING BAGPIPER REQUIRE?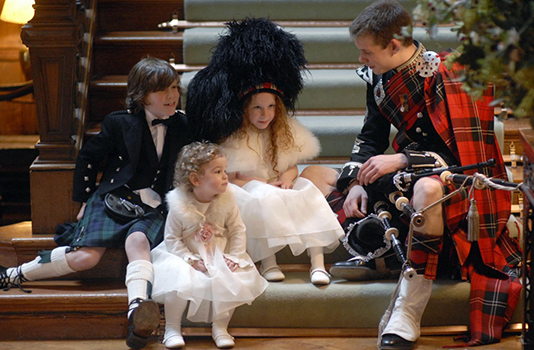 Clear communication is a must. details such as where/when to play, who to escort, etc should all be ironed out well in advance — part of contracting the piper in the first place. Pipers do not usually attend rehearsals. If you really want them to, expect to pay them for their time. For the big day, make sure your piper knows exactly when to be on site. You should provide them with clear directions to the venue (including any necessary details like what door to use, which hall the recption is in, etc.) and a good parking spot.  If at all possible arrange for a quiet, isolated spot where they can tune up. Shade is ideal if the wedding is outdoors. A bottle of water is always appreciated. Most pipers will not expect to be fed or treated as a guest in the reception.
NOTE: It is NOT recommended to have the bagpiper's performance be a surprise. While it may seem like a romantic idea, it makes it very difficult to coordinate the performance. A piper who is asked to hide is being asked to tune quietly or not at all — not good. They will end up rushing to appear at the appointed moment and the song may come off badly. Or worse, someone who does not know about the secret plan may get in the way.
Finally, if your piper makes suggestions about the ceremony or performance — take them seriously. He or she is a professional and has probably seen many successful (as well as unsuccessful) weddings. Their goal is the same as yours — to make the day run as smoothly as possible and be joyous.
We can't resist ending on a humorous (and sour) note, so here's the final piece of advice…
Avoid this: