THE QUAICH (PRONOUNCED "QUAKE") IS THE TRADITIONAL SCOTTISH "CUP OF WELCOME."
A small metal, horn or wooden drinking bowl designed for holding whisky, it dates back to at least the 16th century and may have originated in Scandinavia — a distant descendant of the ritual drinking horn. Quaichs bear two handles or "lugs". One is held by the person offering the cup, the other by the person receiving the drink, which represents hospitality and friendship. It was common to offer a guest a dram of whisky in the quaich when they entered your home, and another upon parting (this should remind you of the line from the song…"And we'll tak' a cup o' kindness yet, for auld lang syne."

No true Gaelic home is complete without one. Historically, the first time the artesenal "loving cup" was given as a wedding token was in 1589 when King James VI of Scotland gave one to Anne of Denmark.  It has become a ritual element of celtic weddings ever since, as well as a classic wedding present.
During a wedding ceremony, the bride and groom may fill the quaich together. Whisky tasting glasses are very handy for this as well as elegant. They then offer each other the whisky (or another beverage). This can be worked in at several points in the proceedings. Usually it is done before or after the vows but always before the handfasting (for obvious reasons!). The cup can also be shared with family members to symbolize the union of the two families. It's a bit like lighting a unity candle, but much more authentic for a Scottish or Irish wedding.

During the reception, the Best Man (or the honored friend you have chosen) should use the quaich during their speech. They may be all set with a personalized toast full of stories about the two of you.
However, in addition to whatever they would like to say (or if they are nervous about public speaking!), they may enjoy offering up this traditional, light-hearted wedding blessing written by Scotland's national poet, Robert Burns:
May the best you've ever seen 
Be the worst you'll you ever see.
May the mouse ne'er leave your pantry 
With a teardrop in its e' 
May you lum keep blithly reekin' 
Til you old enough to dee. 
May you always be just as happy 
As I wish you now to be.
It is also a great piece for an officiant or piper to deliver.
Bagpipers and the Quaich Wedding Toast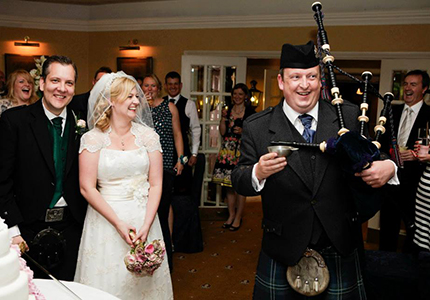 Another person who traditionally offers a toast to the couple at the reception is the bagpiper. After processing the newly wedded couple into the hall, the piper should be offered payment for his services — hence the expression "paying the piper". This payment would of course be monetary (though realistically you will actually be paying the piper with a check at another time). However just as importantly, payment included a drink from the quaich. As he is presented with the dram, the piper traditionally toasts the good health of the couple.  This is a more rare custom nowadays, but it is about as Scottish as it gets and worth considering, especially if your piper has outdone himself.
The quaich may also be passed around the room allowing each guest to raise a toast. This is another ancient tradition which is also sometimes enjoyed during Ceilidhs (Celtic dance parties) — with each person holding the quaich having a chance to toast, sing or tell a short story before quaffing their whisky, But be warned, Celtic toasting can sometimes be more like Celtic roasting, especially as more and more guests offer anecdotes about the bride or groom!
After the big day, your wedding quaich can have a proud place in your home. Quaichs are often displayed on the mantle, with wedding photos, or a piece of the family tartan.  And naturally you will want to bring it out for any special occasions such as holiday dinners to share with loved ones and rekindle fond memories.