"TYING THE KNOT" IS MORE THAN A SLANG EXPRESSION, IT'S A FORM OF CELTIC WEDDING VOWS.
"Handfasting", in which a couple literally have their hands tied together with a cord, was just one of many ancient Celtic marriage forms permitted under the Irish "Brehon" Law. The man and woman who came together for the hand-fasting agreed to stay together for a specific period of time. Usually it was "a year and a day." At the end of the year, the couple could enter into a "permanent" marriage contract, renew their agreement for another year, or go their separate ways.
The handfasting custom, which started in pagan times, continued throughout the post-Christianization period and spread throughout Celtic lands, not merely Ireland. It was practical. In a rural village with no resident priest, you could do a handfasting with just a single witness.  Later on, a priest could "finish up" the wedding with a Christian ceremony. Hand-fasting cords were also far more affordable than wedding rings!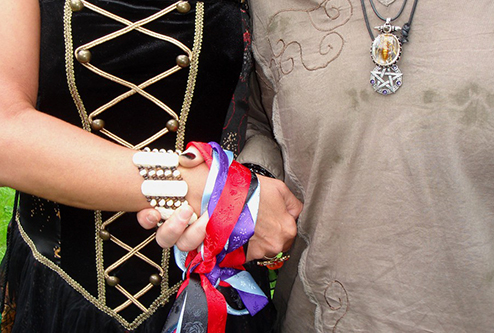 Nowadays, the practice is often included as part of a larger wedding ceremony, usually as the couple speak their vows. For this, you will want to have on hand a piece of braided cord (perhaps in wedding colors) or ribbon. Best of all is to have a strip of the family tartan (remnants from the making of a kilt are great). If both families have tartans, you may want to braid the two together to enhance the symbolism. Flower garlands, ivy, and fancy decorative ribbon, even remnants from vintage wedding gowns can also be used to create hand fasting chords which can become heirloom items.
HERE'S A SAMPLE  HAND-FASTING CEREMONY YOU CAN SHARE WITH YOUR OFFICIANT: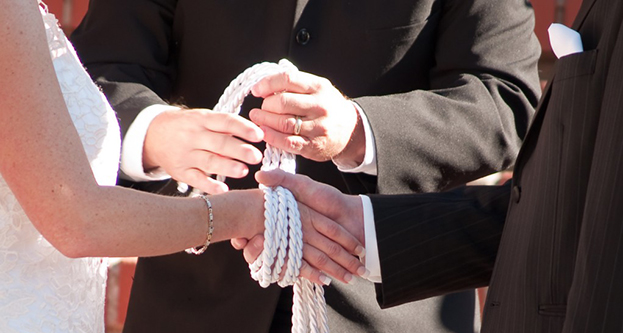 Officiant speaks:
"Groom" and "Bride" wish to close this ceremony with the traditional Celtic handfasting. This symbolic binding of hands is the source of terms like "Bonds of Holy Matrimony" and to "tie the knot."  Throughout the history of our ancestors, and in many parts of the world, this act has symbolized the commitment of two people, one to the other. While the cords themselves are impermanent, much the way life on earth is, the bond they represent, the true bond of love, is undying. 
"Bride", "Groom", please join your right hands.
As you hold hands, the cord is wrapped around your wrists in a figure eight — a symbol of eternity. You can also hold hands and touch your elbows together and have the officiant wrap the cord around your forearms. Either way, it should be lose enough for you to hold hands comfortably, perhaps while kissing, and also for when you recess from the ceremony. 
"Groom" and "Bride",  this cord symbolizes your two lives. Once separate, they are now bound together as one. Where you have lived separately in thought, word and action, now you move into the future together. May you find joy, satisfaction and growth in all things. May your life together be a blessing for you, and for all those lives you will touch. 
You can now have the officiant introduce you as a married couple and close the ceremony.  However, the handfasting can be done at almost any point in a wedding celebration. It is a nice way to join together while reciting your vows.  Get creative and make it your own special moment!
For more on how to do a Celtic Wedding, click here!