GUY FAWKES DAY – NOV. 5
Also known as "Gunpowder Day", this English holiday commemorates the infamous Gunpowder Conspiracy of 1605. King James I ascended to the throne of England in 1603. Following in the footsteps of Queen Elizabeth and Henry VIII before him, James was an ardent Protestant and his rule was under threat from Catholic groups at home and Catholic governments abroad. Sadly, this led him to continue and even step up the persecution of Catholics.
The Gunpowder Conspirators were an underground group of Catholics who sought to take action against the king and his government. Their plan was to blow up the British Houses of Parliament during opening ceremonies — thus assassinating the royal family as well as much of the government. The scheme was uncovered on November 5, 1605. The conspirator, Guy Fawkes, was supposedly arrested just as he was about to light the fuse which would have ignited thirty six barrels of gunpowder hidden in the cellars beneath Parliament.
Allegedly. Some historians now question if the Plot was real or actually an elaborate sting operation or hoax by the government — intended to legitimize James' policies. Regardless, the anniversary has become an English tradition — more about simply being British than about politics or religion. Gunpowder Day is celebrated with fireworks and bonfires. No, it's not Scottish or Irish. However, if you have some English blood, or have English friends, this is a fine excuse for a dinner or a small party. Any excuse to kilt up and shoot off some fireworks, right? It's a good event and season for tweed.
U.S. GENERAL ELECTION DAY – FIRST TUESDAY OF THE MONTH AFTER THE FIRST MONDAY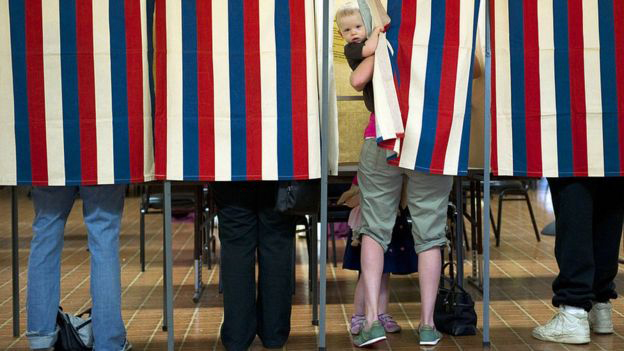 This is a perfect time to kilt up to show off both your heritage and your patriotism by participating in our most important national institution — the Vote.
Get your friends and family out there, too! The right to vote is certainly worth celebrating. Naturally, we here at USA Kilts would be honored if you chose to wear our flagship tartan, American Heritage, for this day. Check out our American Eagle Kilt Belt Buckle, too!
USMC DAY – NOV. 10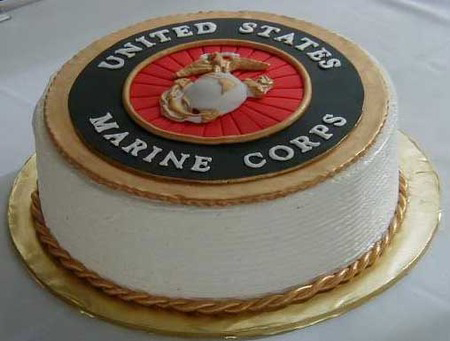 USMC Day celebrates the birth of the United States Marine Corps. The Continental Congress authorized the creation of the 'Continental Marines' on November 10, 1775. Later the service was renamed the U.S. Marine Corps.Since the Revolutionary War, the Marine Corps has participated in every war that has involved the United States.
If you are a Marine Vet, this is your day. If you know or meet a Marine, it's a great chance to thank them for their contributions to protecting our country. USA Kilts offers the official US Marine Corps "Leatherneck" tartan in both wool and PV. Where does the nickname come from? It refers to the wide, stiff leather neck-piece that was part of the Marine Corps uniform from 1798 until 1872. The tartan was designed and registered in 1986 by Bob Hall and Ruraidh MacLeod.
VETERAN'S DAY – NOV. 11

This holiday originally was called Armistice Day. The first observance was in 1921 when the U.S., France and England each buried an unknown soldier in honor of those who died in World War I. The day, and even the time at which the interment was performed, was chosen because the WWI armistice went into effect on November 11, 1918 at 11:11 a.m.
In November 1919, President Wilson proclaimed November 11 the first commemoration of Armistice Day saying: "To us in America, the reflections of Armistice Day will be filled with solemn pride in the heroism of those who died in the country's service and with gratitude for the victory, both because of the thing from which it has freed us and because of the opportunity it has given America to show her sympathy with peace and justice in the councils of the nations…"
The original concept was that the day should be observed with parades, public meetings and a brief suspension of business beginning at 11:00 a.m. The 11th of November was made a legal holiday—dedicated to the cause of world peace — by Congressional Act in 1938. In 1954, at the urgings of various veterans' organizations, Congress renamed the US holiday 'Veteran's Day' in order to honor all those who have served in our nation's conflicts over the years. Today is a day of pride and reflection for veterans of all ages and their families.
USA Kilts is proud to offer a complete line of US Military Service Branch Tartans as well as Service Branch insignia leather sporrans. We also offer a 10% discount to veterans, contact us for details. And in case you are a living historian, let us know if you want a period-correct military kilt for your impression.
To all the Vets of every Service Branch – Thank you!
THANKSGIVING – NOV. 23

Thanksgiving! Food. Football. Parades. Traveling to see family (…even Uncle Joe). Crowded dining rooms and piles of dishes so high you could name mountains after them. What more needs to be said?
Hearkening back to the great harvest feast held by the Pilgrims and Wampanoag Indians in 1621, Thanksgiving is perhaps the greatest American holiday. Individual states and municipalities held separate harvest celebrations around the country for centuries. It wasn't until Abraham Lincoln proclaimed it in 1863 (at the height of the Civil War) that we had anything like a national holiday. Lincoln scheduled Thanksgiving for the final Thursday in November and it was intended to be a sort of day of healing and pious reflection on the losses of the war. In 1939, Franklin D. Roosevelt tried to move the observance up a week — an attempt to spur retail sales during the Great Depression. However, people still preferred the old date so in 1941 the president signed a bill making Thanksgiving officially and permanently the fourth Thursday in November.
For those of celtic extraction, there's an added layer of tradition and good cheer as recipes from the old country hit the table and grandparents tell stories about immigrant ancestors and life in the old days. Nothing wrong with having both colcannon and apple pie, right? Whatever your family's traditions are, we hope you get to kilt up. You want to look your best at the feast! If you are considering a new kilt or accessories for this season, consider muted tartans and weathered tartans to match the turning leaves outside and brown leather sporrans and belts for a more rustic and toned-down look.
BLACK FRIDAY – FRIDAY AFTER THANKSGIVING
Are you planning to shop? Or stay home? Either way, throw on a kilt! You'll certainly make an impression at the check-out line. Heck, you might even get VIP treatment! Love it or hate it, "Black Friday" is an institution. It is now one of the two busiest shopping days of the year. (the other one is the day after Christmas — Gift Certificate/Returns Day)
Ever wonder where the name comes from? In old-fashioned accounting books, sums written in red signified a loss while black signified a profit. For many retail companies, the Christmas holiday season can account for up to one half to three quarters of their annual sales. Many retailers actually lose money (are "in the red") or just break even until the holiday season. With the on-rush of gift shopping and the ease of enticing folks with special seasonal sales, Black Friday and the weeks that follow allow companies to get back in black.
As a small online company, we don't do the whole Black Friday thing, but please do consider visiting us on Small Business Saturday or Cyber Monday! If you are gift shopping, take advantage of  our very handy USA Kilts Gift Card. If you plan to kilt up to hit the mall today, we suggest something rugged like a Casual Kilt. You must be prepared for anything, brother. Good Luck!!!
ST. ANDREW'S DAY – NOV. 30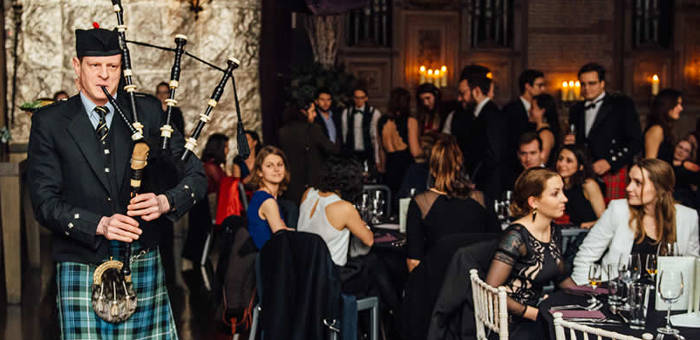 Will you be attending a St. Andrew's Day Dinner? It's about as Scottish as you can get. Saint Andrew's Day (Scots: Saunt Andra's Day, Scottish Gaelic: Là Naomh Anndrais) is the feast day of Saint Andrew, the patron saint of Scotland (as well as Cyprus, Greece, Romania, Russia, Ukraine, Bulgaria, and other lands). It is Scotland's official "National Day" and as such was designated as an official bank holiday in 2006 by the Scottish Parliament.
The celebration of this day as a national festival may have originated with King Malcolm III (1034–1093). According to some tradition, the ritual slaughter of animals usually associated with Samhain was moved to this later date as a means of ensuring enough animals were kept alive for winter. In Scotland, St. Andrew's is considered the start of the winter festival season which peaks with Hogmanay and ends with Burns Night. In the town of St Andrews, and in some other Scottish cities, the celebrations can last a whole week!
Saint Andrew's Day is also an official flag day for Scotland. Government regulations stipulate that the Flag of Scotland, the Saltire, (ie. Saint Andrew's Cross) will be flown on all government buildings with a flag pole. This is actually a very recent policy. Prior to 2002, government buildings would only fly the Union Flag. Here in North America, Saint Andrews Societies across the nation will be hosting elegant and festive evenings of fine dining, music and dance to celebrate Scottish culture and heritage. Certainly no better reason to kilt up.
Click here to learn more about St. Andrew as well as the many ways you can show off your Scottish pride.
KILT UP FOR NOVEMBER HOLIDAYS AND HAVE FUN!