Are you a kilted living historian?
What's your ideal military kilt? Maybe you portray a World War I Canadian infantryman. Or perhaps a World War II British officer. If so, you know how hard it is to find a military kilt that looks accurate, is made to spec and is actually durable enough to survive the average weekend event.
We learned about this problem through one of our senior kilt-makers, Dan "Mac" McMichael, who does WWI, WWII and other periods as well. Apparently, it's a common complaint that the right kilt for the job is hard to find, to say the least. And it may look alright using the 10-foot rule, but that doesn't mean it is right or that it won't fall apart. We picked Mac's brain for a bit more info…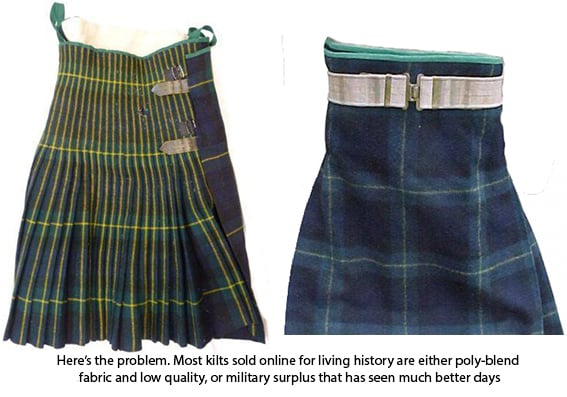 What about wearing an actual surplus kilt? 
"I've opened up packages with surplus kilts in them and the fumes from the formaldehyde will make you keel over, " Mac says. "Those things don't become surplus until they have been really beaten up. Or they have been in grandma's attic for sixty years and are full of holes. A lot of the time the threads and leather are rotted."
So who is making decent reproduction kilts? 
"In my opinion, nobody. That's why Rocky and I discussed the idea of doing them. The ones I have seen are almost always felted wool-acrylic blend fabric. The pattern looks blurry. The overall quality of material and construction is not what I'd want.  And I wouldn't want to get anything Acrylic near fire!"
We asked Mac to spec out what makes a proper reenactment kilt. One thing led to another, and now we are making them on a custom basis. So, you can get a Reproduction Kilt made by a kilt maker who is also a long-time living historian.  
USA Kilts Reproduction Military Kilt Specs: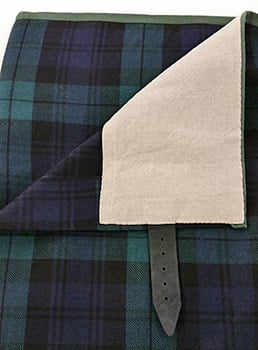 Custom Fit with correct 4″ Military Rise
Cloth: 16oz 100% Scottish Tartan Wool
Tartans: Cameron, Gordon, Black watch, MacKenzie, Royal Stewart, and more in 13oz, 16oz and some 18oz
Waist Band:  1 1/4″ Twill Tape in military sage
Lining: Undyed Cotton or Linen (we prefer the linen as it holds up better)
Straps: 1 1/4″ Leather straps with veg tan finish. NO hip strap (for accuracy)
Buckles: Chromed Steel
Loops: None (for accuracy)
Fringe on Apron: None (for accuracy)
Pleats: Knife Only (sorry, no box pleats) – We will pleat to the Sett or the Stripe of your choice
Production Time: 6-10 Weeks – 3 WEEK RUSH AVAILABLE for additional charge
Price: Approx. $600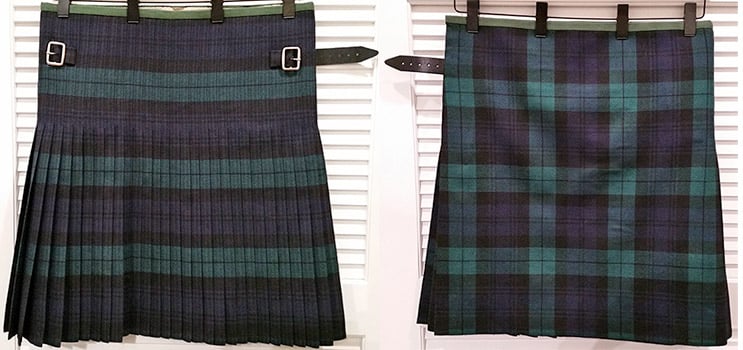 What else should reenactors know
when they order a military kilt from USA Kilts?
Mac points out, "The exact pleating and other details of a kilt could change based on the unit, manufacturer, time it was made, materials available — all that. I have seen countless examples of kilts done for the same unit with different pleating. The best thing would be to provide us with a photograph of what you are hoping for as well as unit information, year, specs — whatever you got. We will do our best to recreate a match. But remember — a few details may be a bit different. Usually because we are making the kilt to be hard-wearing. "
PLEASE NOTE: These kilts are made custom to your measurements. As a result they are non-returnable. They cost a bit more than our regular 8-yard kilts, but we are trying to keep the cost down — budget around $600.  If you want to share this page with your unit and friends, we'd be grateful, but bear in mind this product will not appear for sale on our website — it's just for you guys.
So please share our email ( rocky@usakilts.com ) or phone number and order with us over the phone: 800-368-8633