MODERN AND FORMAL HIGHLAND WEAR
Blending a number of influences dating back 100 to 200 or more years, the contemporary kilt jacket, (and highland wear in general) offers more variety now than any other genre of gentlemen's clothing. Here is a run-down of the origins and details of the standard jacket types you can buy. As we mentioned in Part I, the Victorians set the mold for most modern Highland attire. However, there have been a few innovations and refinements (as well as throw-backs) developed in the 20th century.
When most people think of an Argyll kilt jacket, they envision a basic black suit jacket and vest with some fancy buttons. And that is accurate — the Argyll is the modern go-to if you need a multi-purpose suit option for formal or semi-formal occasions. It is a hybrid of traditional doublets and suit jackets developed by the Victorians. You can think of it as a doublet minus the tashes (tails on the front and back). Argyll jackets once had more variety before splitting off entirely from doublets. Old photographs show quite a variety. Below, we see first a Victorian doublet (left), a transitional Argyll Doublet circa 1912 (center), and a modern Argyll Jacket and Vest (right).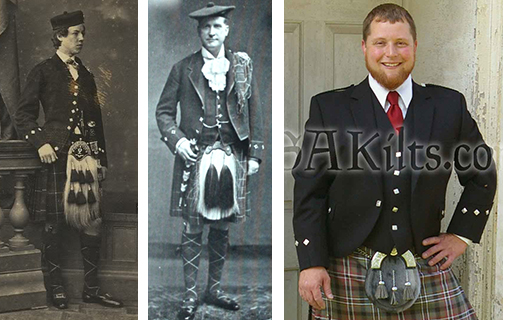 STANDARD ARGYLL FEATURES:
~ Single-button closure "Gauntlet" cuffs
~ Scalloped pockets (pocket flaps designed after the braiding and decorative buttons on doublet tashes)
~ Epaulettes (flat or braided)
~ Metal buttons (silver, pewter or gilt). In time these were standardized to the square "Clann Nar Gael" buttons we see today, though the exact origins of the "loyalty" button are obscure.
~ Worn with a matching five-button vest. The vest can be worn by itself for warmer, less formal occasions such as festivals.
~ Suitable for black tie affairs such as weddings, formal suppers and dances.
~ Also can be worn with a necktie and used like a regular suit, particularly if you are "on display" (for example – judges of competitions are almost always in Argyll jackets).
"Argyll" is sometimes used as a general term for "Scottish suit jacket" or "kilt jacket". But it is more accurate to use other terms when discussing contemporary designs. Most contemporary jackets emulate ordinary ("Saxon") suit jackets in their minimalistic detailing and sillouttte, but are cut short in the body to accommodate the kilt. (This is why jacket conversions are a really bad idea, by the way)  One of the most popular contemporary kilt jackets is the "Wallace" also known as a Crail kilt jacket.  As you can see below, it more or less evolved out of the Victorian sack jackets.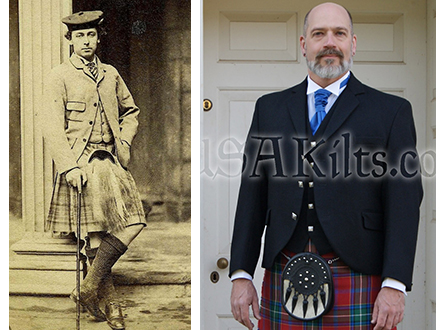 WALLACE CRAIL JACKET FEATURES:
~ No ornamentation
~ Single-button "Crail" cuffs
~ Traditional "Clann Nar Gael" buttons usually in pewter or matt black
~ Herringbone barathea wool, usually black
~ Matching five-button vest
The "Kilkenny" is a modern variant on the Argyll kilt jacket designed to add Irish flair. It features similar styling to an Argyl, but with an elegant Irish twist. Some of the styling was borrowed from Victorian military fashion.

KILKENNY JACKET AND VEST FEATURES:
~ Usually made in black or bottle green barathea wool
~ Pewter or bronze Irish Harp buttons
~ Pointed cuff decoration borrowed from Victorian military shell and mess jackets.
~ Two-button closure
~ Can be worn with a matching five-button vest.
Technically there's really no difference between the standard black Argyll jacket and vest most kilt-wearers have in their closets and a tweed set…except the fabric. But this is a hugely important difference. Tweed Argyll jackets are usually day wear — suitable for the office, festivals, the pub, Burns Suppers, etc. Although the least formal of all jackets, they are by far the most interesting. There are hundreds of tweeds available including herringbone and windowpane patterns. The fun lies in finding that perfect tweed to match your tartan and personal style.
Since most tweed sets are custom-made, the options you may consider also extend to other features. Do you prefer scalloped pockets and gauntlet cuffs? Flat or braided epaulettes? Lapels on the vest? Or perhaps no ornamentation at all for a more streamlined "crail" look? Antler, leather or pewter buttons? The sky's the limit!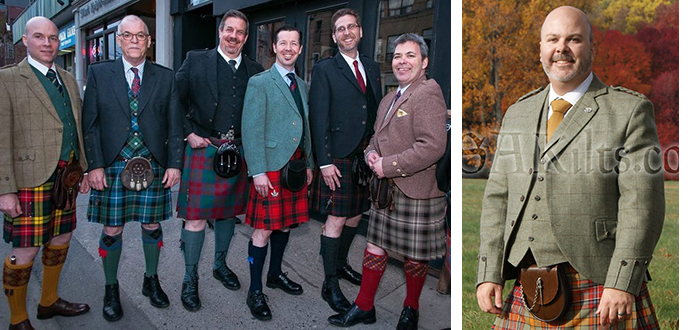 While less common today, tartan suits have been around for as long as tartan itself. Modernly, the easiest way to think of a tartan kilt suit is like a tweed set — you can customize each element to suit your tastes. Usually, sedate tartans will be more pleasing to the eye, so consider using a hunting tartan, weathered or muted tartan. Ancient colour-palette tartans can work. However most modern colour-palette tartans will look garish to the modern eye. A Tartan Vest can be used with a tartan kilt, a tweed kilt, or with trousers, so it is a great option for occasions where you do not wish to wear a kilt.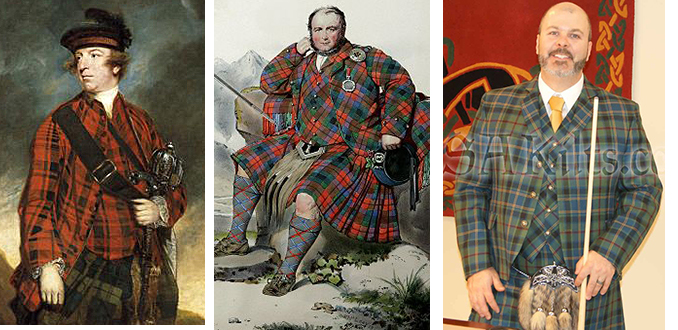 Tweed kilt jacket suits are currently fashionable. But nobody should think they are something "new". John Brown, ghillie to Queen Victoria, had one. Essentially a tweed kilt suit is just using the same cloth for an entire outfit. It can be very sharp looking. One interesting look is to use a tartan necktie with a tweed kilt suit — thus adding a splash of color and interest while also denoting one's clan affiliation.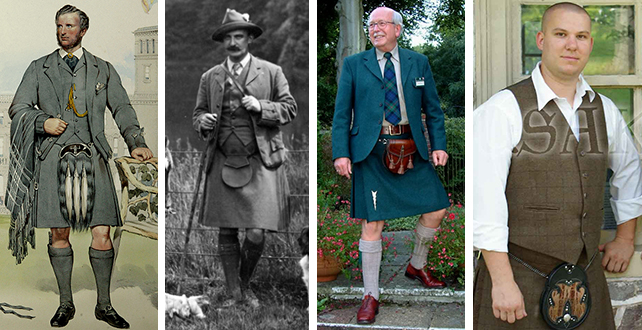 The most recognized formal kilt jacket is a relatively late evolution; the Bonny Prince Charlie jacket, originally named the "Prince Charlie Coatee". The Prince Charlie (or PC) with its accompanying low-cut waistcoat, was developed in the early 20th century. The name "Prince Charlie" was certainly a marketing device of the originating tailors. What it was, in essence, was a Highland option for younger gents who wanted to look stylish and sleek while also traditional. It was presented as a less fusty alternative to the formal doublet worn by Victorians like Grand-dad.
A true hybrid, the PC is part Jazz-age tuxedo and part "coatee" decorated with elements common to 19th-century doublets. The coatee was originally a military cut-away coat with tails adorned with buttons and braiding; a style with roots in the 18th century and streamlined in the early-  to mid-19th. Below, you can see some of the evolution: Napoleonic era Coatee (left), Victorian Officer's Mess Jacket with low-collar waistcoat (center), modern Prince Charlie (right)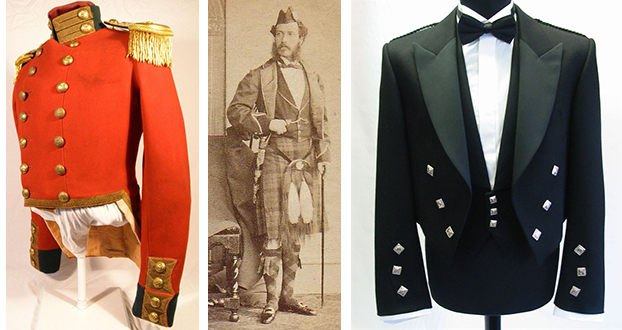 BONNY PRINCE CHARLIE "COATEE" FEATURES:
~ Tails with silver "Clann Nar Gael" buttons
~ "Braemar" cuffs
~ Braided epaulettes
~ Silk / satin peak lapels
~ Upward-angled bottom hemline (true coatees are straight-cut, like a Montrose jacket)
~ Low-cut, shawl-collared three-button waistcoat
~ Black as the standard color, though custom colors are available
~ Suitable for black-tie and white-tie occasions only ("after six")
An Irish twist on the Prince Charlie, the Brian Boru is interestingly more similar to the Officer's Mess Dress jacket which inspired both jackets. I personally prefer it since it looks more Edwardian to my eye. Brian Boru jacket.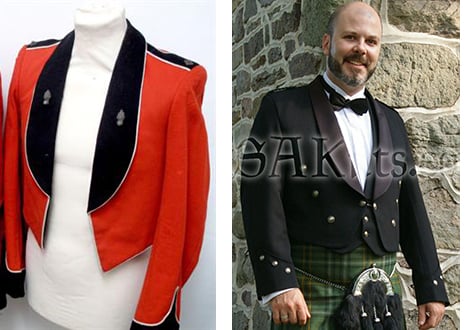 BRIAN BORU FEATURES:
~ Tails with pewter irish harp buttons
~ Chain-button closure on jacket
~ Pointed Chevron cuff decorations
~ Braided epaulettes
~ Silk / satin shawl collar
~ Low-cut, shawl-collared three-button waistcoat
~ Black as the standard color, though custom colors are available
~ Suitable for black-tie and white-tie occasions only ("after six")
MODERN DOUBLETS
Doublets in various designs have never gone away. They are now reserved strictly for bagpipe bands or formal wear (unless you are a rock star or a really fashion-forawrd person). Modern doublets still bear all the hallmarks of their Victorian predecessors. However, there is a marked difference between the military-esque doublets used by pipers and those for civilian formal dress.
The modern civilian version is known as a "Regulation Doublet" and was first offered around 1900. Like the Prince Charlie, it is a hybrid. It looks, for all intents, like a PC jacket but with tashes instead of the coatee-style tails. It is usually made of black barathea, but bright red is another popular option — especially for men with a military background.
Then there is the highly romantic Chieftan's Vest. This garment is actually a sleeveless doublet designed to emulate a historical look but with modern penache. It is not really consdiered rormal wear, though it is a very popualr choice for fantasy, rennaisance, or historically themed weddings. it's a fun accessory for festivals and fairs or parties and looks great paired with a highland shirt or even a Great Kilt.
Below: Military-style Pipe Band Doublet (left), Regulation Doublet (center), Chieftan's Vest (right). Quite a difference! And yet each one still retains distinct doublet features such as the tashes – the flaps hanging down from the waistline.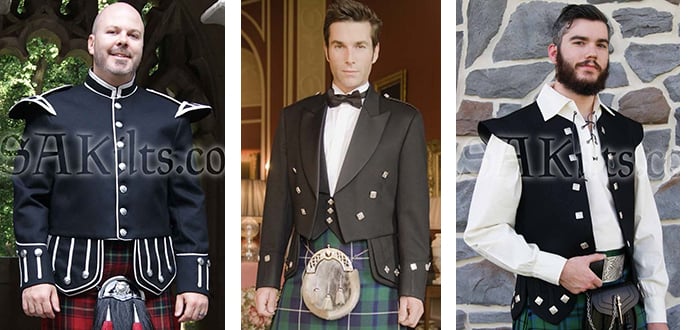 Alternative Jackets:
THE SHERIFFMUIR DOUBLET JACKET
Gaining popularity fast, the Sheriffmuir is a hybrid formal jacket styled after 18th- and 19th-century military doublets. It is similar to other doublets except that it features a standing collar and is not made to close. It is usually worn with a matching high-cut, five or six button vest, but tis optional and varies. The Sheriffmuir may feature Braemar or gauntlet cuffs depending on the maker (the gauntlets are more common). It is often rendered in velvet instead of wool. Black is still the standard color, but it may be made in other colors such as grey, red, green or even purple. Sheriffmuir sets are often worn with a Jabot (a lace ruffled neckerchief) and lace cuffs. USA Kilts can custom order a Sheriffmuir  for you. Feel free to contact us.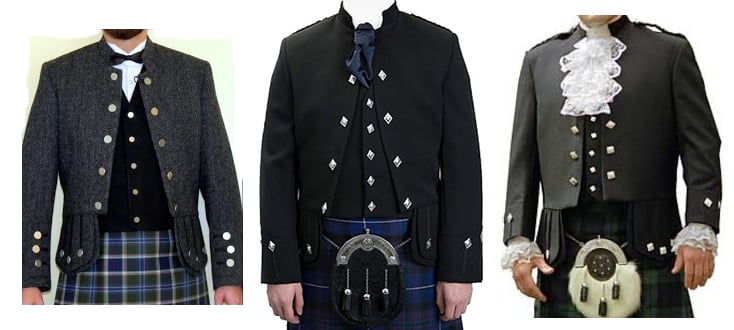 THE MONTROSE DOUBLET
The Montrose is a double-breasted variant doublet. However, it's military pedigree comes from the 19th-century Shell Jacket (below, left). This accounts for the double-breasted construction and two rows of five buttons as well as the lack of tashes. The Montrose is typically worn with a belt, a lace jabot and lace cuffs. It can be made of barathea wool or velvet.  USA Kilts can custom order a Montrose Doublet  for you. Feel free to contact us.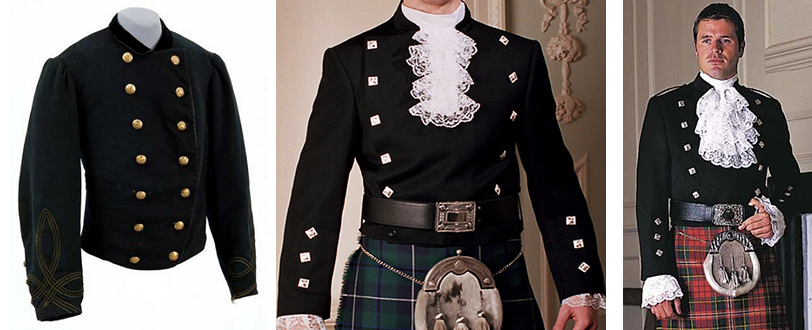 Sheriffmuir and Montrose jackets have an odd reputation. They are seen by some as very romantic and appropriately traditional. By others as too effeminate to the modern eye. They are certainly not ubiquitous the way the Prince Charlie is — more of an option for someone who wants something different.
THE KENMORE DOUBLET
The Kenmore doublet, also designed around 1900, is a single-breasted version of a Montrose Doublet, but with tashes. It is a middle-ground between the old-fashioned doublet and more modern wear. Another way to think of it is as a stiped down military bagpiper's doublet. The point being, it offers a military look for civilian formal wear.  It is typically offered in velvet, but barathea wool is also used. It can be worn with or without a jabot.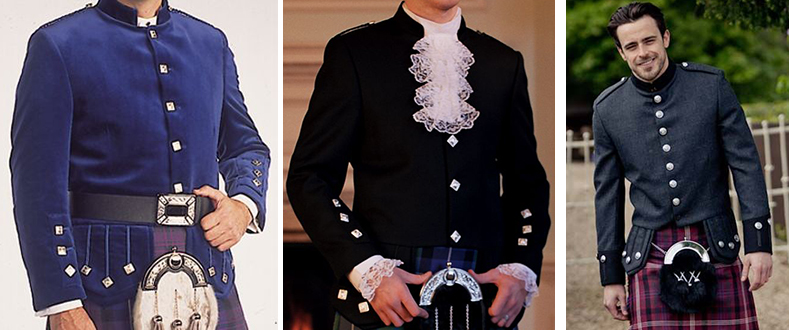 Clearly, Highland fashion is the culmination of many elements. And certainly it will continue to evolve as gentlemen re-examine old styles, invent new pieces, and combine elements to create all-together new looks. This just goes to prove that ours is a dynamic tradition full of romance and elegance as well as creativity.