You probably already know that there were many Scots and Irish involved in the American Revolution. When people say they are proud to be Scottish or Irish Americans they may not be aware of just how strong their heritage has influenced this nation. By the time of the Revolution, Celts were rooted in most of the colonies. Nineteen of the fifty-six members of the 1776 Continental Congress who signed the Declaration of Independence were from Scotland or Ulster ("Scotch Irish") or had ancestors from those lands.
On the other hand, don't be surprised to hear that many of your ancestors may have actually opposed the Revolution and even fought as Loyalists. This was largely due to the fact that many Celtic settlers here still had strong ties to commerce and family back home. Many owed loyalty to their Scottish Clan first, so if the clan supported the Crown, so did they. Of course, on the Continental side there were many brave warriors. Here are three of the most famous Celtic patriots of Celtic heritage.
JOHN PAUL JONES

Perhaps the most famous of the Celtic patriots is Commodore John Paul Jones, called by some (though not all) "Father of the American Navy". Both popular and infamous as a determined and dashing naval leader, he was born John Paul on the estate of Arbigland near Kirkbean on the southwest coast of Scotland. John Paul Sr., his father, was a gardener at Arbigland. John began life as a sailor at the age of 13 and over the years had many adventures and misadventures working the West Indies. He added "Jones" to his name later in life to hide from English law after a dispute where he killed a mutineer with a sword.
In 1779, Jones commanded the 42-gun USS Bonhomme Richard in what would become his most famous naval duel. On September 23, Jones' squadron met a large merchant convoy off the coast of Flamborough Head, East Yorkshire, England. The British 50-gun frigate HMS Serapis and a 22-gun ship Countess of Scarborough blocked Jones from attacking the convoy. The resulting Battle of Flamborough Head would see the Bonhomme Richard sunk, but only after a lengthy engagement which severely damaged all ships involved. When asked by the British commander if he would strike his colors (ie. surrender), Jones supposedly shouted "I have not yet begun to fight!"
This actually happened a second time. As Richard was burning and sinking, her standard was hit and broken off by shot. The Brits asked Jones if he was striking his colors once more. His reply was either "I am determined to make you strike!" or "I may sink, but I'll be damned if I strike!" (the latter was the version the newspapers published). In the end, Jones's hard fighting and use of close quarters tactics, including US Marine sharpshooters in the rigging, allowed his men to board and defeat the Serapis. Richard could not be repaired and had to be scuttled. But Jones took Serapis home to his base in allied France as a prize.
The French awarded him the title of 'Chevalier' and inducted him into "l'Institution du Mérite Militaire." The Continental Congress struck a commemorative medal honoring his "valor and brilliant services." To the English, he was just a vicious pirate. After the war, Jones would go on to serve in the Imperial Russian Navy where he earned the rank of rear admiral.
HENRY KNOX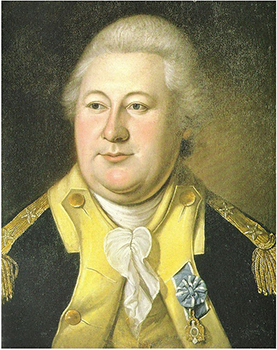 Henry Knox started out as a clerk in a book store and at one time operated his own book store in his native Boston, Massachusetts. He was of Scotch-Irish heritage; the son of William and Mary (née Campbell). Knox was an eyewitness to Boston massacre. According to his affidavit, Knox tried to defuse the situation by convincing the British soldiers to return to their barracks. Knox was a supporter of the Sons of Liberty. He may or may not have participated in the 1773 Boston Tea Party. We do know that he stood guard before the incident to make sure no tea was unloaded from the British cargo ship Dartmouth.
Knox had a lifelong interest in artillery and would serve the Continental Army as chief artillery officer (one of his first actions was directing rebel cannon fire during the Battle of Bunker Hill). One of his most famous and audacious feats was during the siege of Boston. Knox hit upon the idea of utilizing artillery recently captured at the fall of forts Ticonderoga and Crown Point in upstate New York. He led an expedition in December to retrieve the guns. It would be known as the "noble train of artillery" — ox-drawn sleds hauled 60 tons of cannon and other armaments approximately 300 miles over ice-caked rivers and the snow-shrouded Berkshire Mountains to the rebel army camped around Boston. What was to be a two-week operation took six weeks of struggle against the elements. Frequently guns and sledges broke through river ice or got stuck in snow. However, not a single piece was lost. When they arrived, the new guns were stationed on heights around Cambridge with a clear view of Boston harbor. The British fleet fled to Halifax. Historian Victor Brooks has called the convoy "one of the most stupendous feats of logistics" of the whole war.
Knox went on to accompany Washington on most campaigns, a close friend of the general. Knox also served as the first United States Secretary of War from 1789 to 1794.
WILLIAM ALEXANDER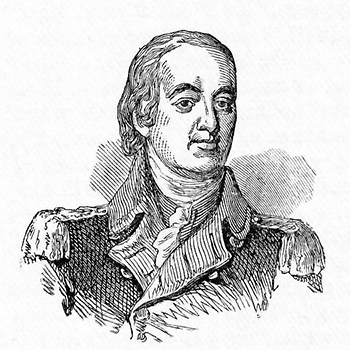 Major General William Alexander was actually a hereditary heir to the title of Earl of Stirling through his Scottish lineage and was affectionately known as 'Lord Stirling' to his friends and troops. A man of wealth, he outfitted the New Jersey colonial militia at his own expense and served first as their colonel. His first action was leading a group of volunteers in the capture of an armed British naval transport. Stirling was made a brigadier general in the Continental Army in March of 1776.
In that same year, Stirling led the 1st Maryland Regiment (known as the "Maryland Line") at the Battle of Long Island. He executed repeated attacks against a superior British force commanded by Gen. William Howe. However, the battle did not go well for the Continentals. Outnumbered twenty-five to one, Stirling's brigade was overwhelmed and had to retreat. But even this retreat was ordered and tactical. The general was was taken prisoner, but his strategic sacrifice allowed the main body of George Washington's troops to escape to defensive positions and eventually to Manhattan Island. Stirling was praised by both Washington and the British for his courage and cunning. One newspaper called him "the bravest man in America."
Stirling went on to be involved in most of the major engagements of the war. He passed away on the 15th January 1783, just months before the Treaty of Paris was signed. Sadly, he has not been well remembered as a result.
Happy Fourth of July!