Lord grant that thou may aye inherit
Thy mither's person, grace, an' merit, 
An' thy poor, worthless daddy's spirit, 
Without his failins, 
'Twill please me mair to see thee heir it, 
Than stockit mailens.
For if thou be what I wad hae thee, 
And tak the counsel I shall gie thee, 
I'll never rue my trouble wi' thee, 
The cost nor shame o't, 
But be a loving father to thee, 
And brag the name o't
~ from 'A Poet's Welcome To His Love Begotten Daughter', Robert Burns (1785)
WHAT DO YOU GIVE THE KILTED DAD WHO HAS EVERYTHING?
More kilts! No seriously … If your father is dedicated to Celtic heritage and Highland fashion, there are lots of easy accessories you can get him this year to help round out his wardrobe. And yes, that even includes neckties. The nice thing about highland wear is that it is highly collectible. We all love the look and there are lots of small bits and bobs that go into it. That means lots of us end up being collectors. So you don't have to worry about getting Dad something he already has.
CELTIC FATHER'S DAY GIFTS FOR EVERY BUDGET!
Over the years, we have gotten a sense for the most popular Celtic Father's Day gifts to ring a grin to the old man's face. Here's a run-down of what our customers buy the most for Dad and Grand-dad:
Neckties: A tartan neck tie is a go-to. We all have one in our closets. He may not wear it with his kilt, but let's face it sometimes you can't kilt up for every occasion, so at least this way he can show off the family colors. If he does want to wear it with a matching tartan kilt, we recommend wearing a vest or sweater vest as well to break up the pattern. The tie and kilt alone just look a bit off somehow. A solid color wool necktie is also a common accessory — meant to be worn with the kilt and tone well with the colors of the tartan while not being too busy.  if he's not a tie guy, check out our Irish Flat Caps and Tartan Scarves.

Cuff Links: It's been said that Americans don't wear cufflinks much, but we beg to differ. We sell a lot of these to go with formal kilted outfits as well as business wear or simply "Celtic Festival Nice". Maybe all our customers are hipsters…or more likely we Scots are just a classy bunch. Our most popular cuff-link set is the Square Celtic Knot — goes with everything from a tweed jacket and vest to a Prince Charlie.

Pocket Watch: These charming timepieces make for the best Celtic Father's Day gifts — dressy and classy, and full of gaelic pride. Our most popular design is the Knot and Thistle, but we also provide the Shamrock, Welsh Dragon, and Trinity Knot – all cast into hefty pewter cases.

Drinkin' Gear: We have it on good authority that no sporran is complete without a flask inside. In fact, we offer some especially designed to fit! Lots of great regular hip flasks as well, natch. If you're staying home to celebrate Father's Day, a bottle of his favorite Scotch whisky served in genuine Glencairn tasting glasses is a fine gift.
Sgian Dubh: Not just for threatening door-to-door solicitors anymore! Our top sellers are the custom Clan Crest Jewel Sgian Dubh and Clan Crest Officer's Sgian Dubh. Our Damascus blade sgian is also very popular — drool-worthy if he is a knife guy.

A New Sporran? If he's been an especially good Dad, sure! This is the creme-de-la-creme of Scottish Father's Day gifts. Most men have at least two — one for every day, and one for special occasions. And again, they are something guys love to collect. Popular choices include our Celtic Knot (only $60!), our Simple Pin Sporran and our new Laser Etch Clan Crest Sporran. This last one is sure to be a unique part of his collection and get him lots of attention!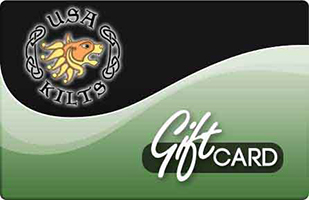 The Gift Card of Freedom!: Dad is a pain in the arse to shop for, you say? Too many choices? The whole family wants to chip in and get him something extra special? USA Kilts Gift Card to the rescue! As a matter of fact, we sell a lot of these and the giftee is always thrilled to go on a personal shopping spree with no guilt attached. Plus, it's instantly in your e-mail so it's perfect for last-minute gifting!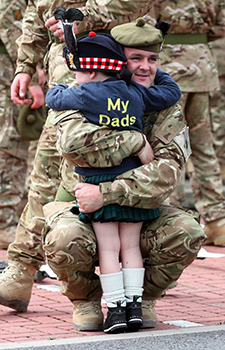 Love and Affection: Sappy sentiment is as Scottish as Robert Burns, so whatever you give Dad on this special day, be sure to shower him with love too. That could mean hugs or a strong, fast punch to the bicep. You know how Celts are.