There's a little bit of something here for everyone, from traditional Irish folk, to bagpipes to hard-slammin' Celtic punk rock. We've linked to each band's FB page so you can check out their music and find out if they are touring (most of them are!). Slante!

Dropkick Murphys formed in 1996 in Boston, MA. The band was originally just a bunch of friends looking to play music for fun. We started playing in the basement of a friend's barbershop and our goal was to blend the musical influences we had grown up with (Punk Rock, Irish Folk, Rock, and Hardcore) into one loud, raucous, chaotic, and often out of tune mix that we could call our own.
To our surprise people seemed to like it and we began to record music and tour constantly. To date we have released numerous singles & EP's, a live album, a DVD and six full length albums and have had the good fortune of being able to play across a large portion of the world. We are truly grateful to the many friends and bands that have helped us out and supported us along the way in the US, Canada, Europe, U.K. Ireland, Scandinavia, and Australia as well as the many countries we look forward to playing in the next century.
The bands' main goal is to play music that creates an all for one, one for all environment where everyone is encouraged to participate, sing along, and hopefully have a good time. In the true spirit of punk rock we view the band and the audience as one in the same; in other words our stage and our microphone are yours.
In addition to hopefully bringing people together for a good time, we hope to share some of our experiences and beliefs in working class solidarity, friendship, loyalty and self- improvement as a means to bettering society (i.e. You can preach till you're blue in the face but if you're lying in the gutter no one's gonna listen. If you pick yourself up by the bootstraps and live your life to the best of your ability you may set an example that others will follow).The Dropkick Murphys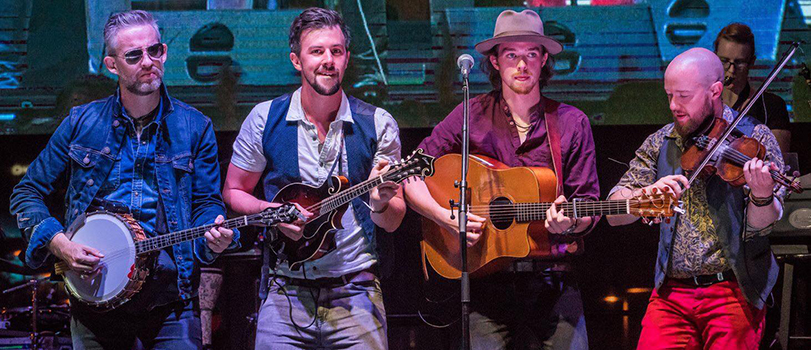 Award-winning quartet WeBanjo3 from Galway, Ireland combine Irish Music with Old-Time American and Bluegrass influences to reveal the banjo's rich legacy and roots. When this band of brothers take flight in a wave of virtuosity, verve and joie-de-vivre, feet tap and pulses race.
Enda & Fergal Scahill and Martin & David Howley are among the most celebrated and distinguished young musicians in Ireland today.
Featuring banjo, fiddle, mandolin, guitar, vocals and percussion We Banjo 3 make a bold and extraordinary musical statement. Creativity, sensitivity and passion are present in full measure and Irish music is at the heart of what they play.
Collectively, WeBanjo3 have been at the forefront of Irish banjo and fiddle for 2 decades. Their competitive success is unrivalled, Martin holding 7 All Ireland titles, Enda with 4, while Fergal and David hold All Ireland titles on Banjo, Fiddle, Bodhran and Guitar.
Enda has recorded and toured with the best of the best including The Chieftains, Frankie Gavin, Stockton's Wing, Grammy-winner Ricky Skaggs and "Instrumental Band of the Decade" The Brock McGuire Band. Fergal has performed with David Munnelly, Martin O'Connor and Kevin Crawford and has toured the world with Ragus and Celtic Legends. Martin was the very first Irish banjo player to perform at the Grand Ol' Opry in Nashville and David is fast building a reputation for his deep, muscular singing.
We Banjo 3 play with swing and soul, effortlessly combining the best of Irish and Bluegrass banjo music and song, mining the rich vein of the American Old Time tradition and thoroughly reinventing the banjo band sound. Modern rhythms, traditional melodies, virtuosic technique and innovative arrangements of music and song add up to an incredible feast of banjo and mandolin music – guaranteed to put a smile on your face and get your feet tapping.
We Banjo 3

Since they walked away with the top prize on UK primetime TV talent show, 'When Will I Be Famous' in 2007, the Red Hot Chilli Pipers haven't stopped for a breath, other than to inflate their bagpipes! Taking their signature 'Bagrock' sound to the masses, The Chillis have fast become a global phenomenon, rocking far-flung shores from Melbourne to Milwaukee and everywhere in between.
With three albums already under their belts, the band's most recent release 'Music for the Kilted Generation' took Bagrock up another gear in 2010. With clever covers of 'Long Way to the Top' by AC/DC, 'Baba O'Reily' by The Who and a great version of 'Lowrider' by War- just a few examples of how well rock tunes fit on the bagpipes! Previous live album and DVD 'BLAST Live!' (REL Records, 2009) has already gone triple platinum in Scotland plus second album 'Bagrock To The Masses' (REL Records, 2008) has just achieved gold status in the UK.
The Chillis have spent much of 2011 perfecting their phenomenal live act with sell out shows across the globe. Kicking things off in April, with an eight week tour of mainland Europe then coming home in August to perform at the world renowned Edinburgh Festival and Glasgow's 'Piping Live'-the band barely had time to do their washing before jetting off again!
A six-week jaunt 'Down Under' followed with the guys managing to find time in amongst their hectic schedule to support the Scottish rugby team at the World Cup. Their Red Hot performances earned them a new legion of fans from Auckland to Adelaide!
Further trips to the USA, Saudi Arabia and the UAE saw the band cement their reputation as one of the most exciting live acts around!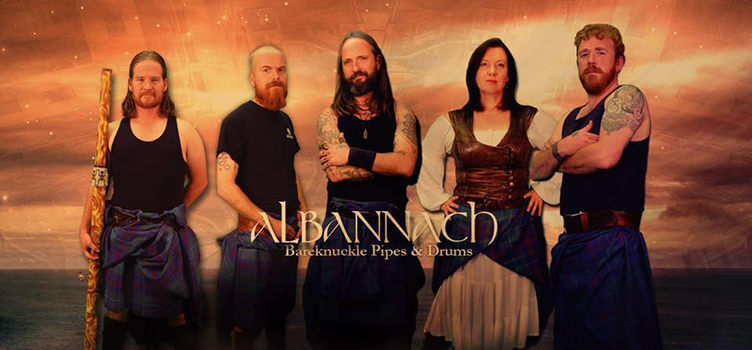 Albannach is Scots-Gaelic for "Scottish" or "Scotsman". That's exactly what we are – born and bred in Scotland, our purpose in life is to share our intriguing culture, history and heritage with you by means of our music.
Albannach are not just another Scottish 'Pipes & Drums' band, indeed we bring a new and exciting form of music to your living room. A championship winning piper, an extremely talented main drummer, bass drummers and bodhran musician bring you a brand new approach to percussion and Celtic music. Our style of music is exciting, energetic and enchanting and we promise to leave you begging for more. Albannach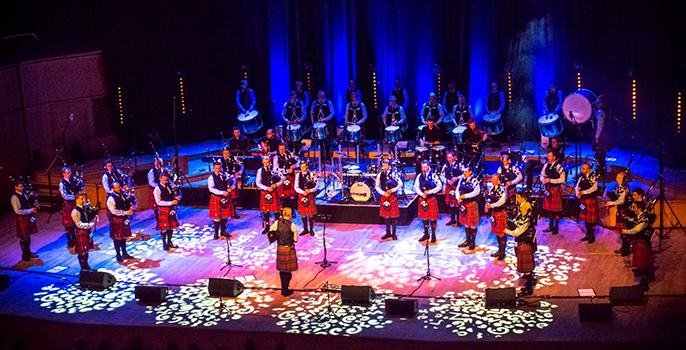 The Field Marshal Montgomery Pipe Band are 10 time RSPBA World Pipe Band Champions, and the most successful pipe band from Northern Ireland. Led by Pipe Major Richard Parkes MBE and Drum Sergeant Keith Orr, the band practices in Lisburn, Northern Ireland, and draws members from across the country, as well as having welcomed players from Scotland, England, Canada, Australia, New Zealand, USA, Denmark, and France. The band is one of the world's leading competition pipe bands, and also performs in concerts and events. Field Marshall Montgomery Pipe Band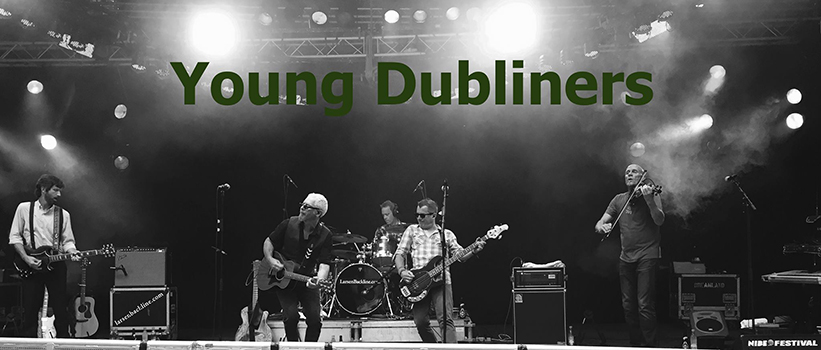 The Young Dubliners are quite possibly Celtic rock's hardest working band, playing hundreds of shows to thousands of fans across the US and Europe every year. In recent years they have twice appeared on ABC's Jimmy Kimmel Live!, had songs featured in TV shows (Sons Of Anarchy, Human Target) and toured extensively as a headliner and as the opener for such a diverse list of artists as The Flaming Lips, Collective Soul, Jethro Tull, Johnny Lang and many more.
Although the Young Dubliners sound is most commonly called 'Celtic Rock', that label, as labels often can be, is misleading. The Irish influence is there, certainly, but it's not the only influence that rears its head on their albums, or in live shows. After all, several of the band members have no Irish roots of any kind. "That was always the idea", Keith Roberts, lead singer for the band explains. "The sound was always intended to be a hybrid because we all come from different backgrounds. Even though two of us are from Ireland, a lot of the music we listened to growing up wasn't Irish at all, but when we got here, we got homesick and developed a new appreciation for Irish Music. In truth the Celtic riffs can just as easily come from the American band members. Everyone writes now so you never know what you'll end up with when you start on a new album.
The band has just released their brand new studio album, NINE. It contains ten brand new original songs with the usual blend of themes and tempos to keep the listener captivated. This was a unique experience for the band as they released it independently for the first time in their career.
"We had a few offers but decided we were well overdue to take things into our own hands," says Roberts, "After eight albums on various labels it just seemed right to go it alone for once and maintain full creative control."
However 'going it alone' did not mean without financial support and for that they turned to their fans. After only two weeks the band had received over half the necessary funds to complete the recording, manufacturing and marketing plan for the album and work began on February 1st, 2012. The road intervened as is usual for this non-stop touring band and the recording process was put on temporary hold as they commenced a long US summer tour followed by a month long European Fall run.
Now, with the Album finally hitting the streets on March 4th, the Dubs are out on the road again in support.
"Having a whole album of new songs really invigorates the live show for us and makes it exciting all over again" say Roberts. "It's like a shot in the arm every time we go through this process". Young Dubliners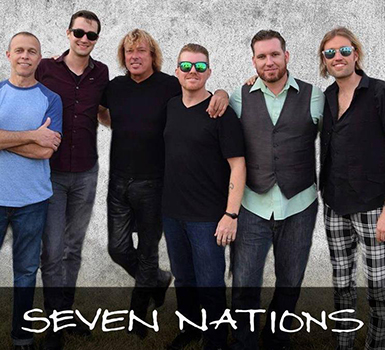 The story of SEVEN NATIONS is that of a truly original and determined band that began in New York City, with members now hailing from California, to Toronto, to Florida. They have for years booked their own tours, have their own PBS and CNN specials, and use bagpipes the way Jimmy Page uses his guitar. Throw away any preconceived notions you may have about kilts and Celtic music; this is a band that has invented its own sound and attracted a prodigious national and international following.
Through its touring schedule and dynamic live performances, SEVEN NATIONS has become one of the fastest growing live acts nationwide. They have logged in more than 300,000 touring miles trying to make its less familiar music universal for old and new fans alike. To the five member band, that means being on tour 85 percent of the year, melding piano, guitar and vocal elements of American pop and rock with Highland bagpipes and fiddle. The result is a high-energy performance that has fans jumping out of their seats, and has sparked interest industry-wide.
Equally at home in front of 40,000 cheering fans at an international festival, with the widely recognized, Grammy award winning, symphony orchestras, or with 300 fans in a small Midwest club, SEVEN NATIONS has created a truly hybrid sound and transient live show. The depth and complexity of SEVEN NATIONS' music is astounding, each listen reveals a deeper layer of intricacy that has been embraced by an ever growing audience. "We are lucky," says McLeod, lead singer/songwriter and founding member of the band, "because we come from two unique cultures. We love American pop and rock and roll, but we also love our Celtic roots. We want to touch everybody with our music," he continues, "and so far, we have been very, very fortunate." 7 Nations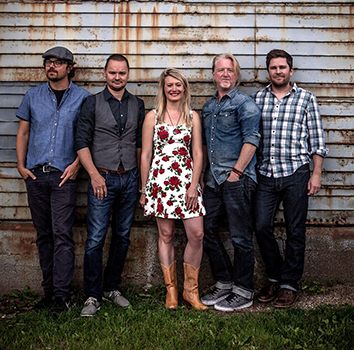 After 10 albums, and nearly 3,000 live shows, Gaelic Storm — the chart-topping, multi-national Celtic band — is dishing up a hearty serving of Full Irish. The greatest-hits album spans the bulk of the band's career from 2004-2014, mixing crowd favorites and concert staples with three previously unreleased recordings.
Gaelic Storm has straddled the line between tradition and innovation for nearly two decades. Led by founding members Patrick Murphy and Steve Twigger, the group infuses traditional Celtic music with modern influences, updating the genre for a new generation of fans raised on rock, country and folk. Along the way, the musicians have topped the Billboard World Chart four times, appeared in the blockbuster film "Titanic" (where they performed "Irish Party in Third Class," an unreleased song made available for the first time on Full Irish) and earned a reputation as a hard-touring, genre-bending band.
"We have earned every single one of our fans, one at a time," Murphy says. "There's no sponsorship. No corporation is pulling strings. Every fan is made by us playing a show and shaking hands and learning names. We've become friends with so many of them. When someone at a show tells me they've never seen Gaelic Storm before, I say, 'Welcome to the family.'"
Full Irish pays tribute to the group's diverse journey. The album features sea shanties and drinking songs, traditional tunes and originals, instrumental workouts and vocal showcases. "Whiskey in the Jar," another brand new recording, even harks back to Gaelic Storm's early days as a pub band in Santa Monica, California, long before the group played the Telluride Festival, the Rock Boat cruise, or high-profile theaters in countries like France and Spain. Together, these 15 songs celebrate the sunny side of life, urging listeners to raise their pint glass and stomp their feet.
"When you go eat pub food in Ireland," explains Steve Twigger, "you can order the 'Full Irish," which is a combination of mushrooms, beans, bacon, sausage, black pudding, white pudding… It's the works, basically. That idea seemed to represent everything about this album. This is the works. Everything we do is represented."
Regularly playing more than 120 shows a year, Gaelic Storm has built a loyal following as diverse as the band's own music. Fans of traditional Irish music have championed the group for years, but so have fans of harder-edged Celtic rock. On tour, Gaelic Storm is just as likely to play a large rock club as a plush theater. The band makes regular appearances on cruises, too, joining artists like the Barenaked Ladies and Michael Franti.
"Our audience spans the whole spectrum," Twigger says. "We'll play a rock venue one night, then a performing arts center that might've hosted a ballet performance the night before. We've got hardcore fans who love our energy, Jimmy Buffet fans who love our message, folk fans who love our stories. Everyone can appreciate it, and that's been the secret to our longevity."
"Looking back over our past albums is like flipping through a photo album," adds percussionist Ryan Lacey, who joined the band in 2003. "Each record was made during a different time and a completely different phase of our lives. What hasn't changed is the message. We want everybody to have a good time, to enjoy themselves. It's the sort of message that everyone can get behind."
Although Full Irish takes a look backward, Gaelic Storm is still moving ahead at full speed. There's another studio album in the works, as well as plenty of tour dates on the books. Hungry for more rule-breaking Celtic music? Full Irish will satisfy your appetite… even if it's just an appetizer for what's to come. Gaelic Storm

Based in their hometown of Toronto, Ontario Enter the Haggis has been making Celtic Rock/Indie/Roots/Folk music people love since 1996. Band Members include Brian Buchanan: Fiddle, Keys, Guitars, Vocals Craig Downie: Bagpipes, Harmonica, Whistle, Trumpet, Vocals Trevor Lewington: Guitars, Vocals, Mark Abraham: Bass, Vocals, Bruce McCarthy: Drums.  Enter the Haggis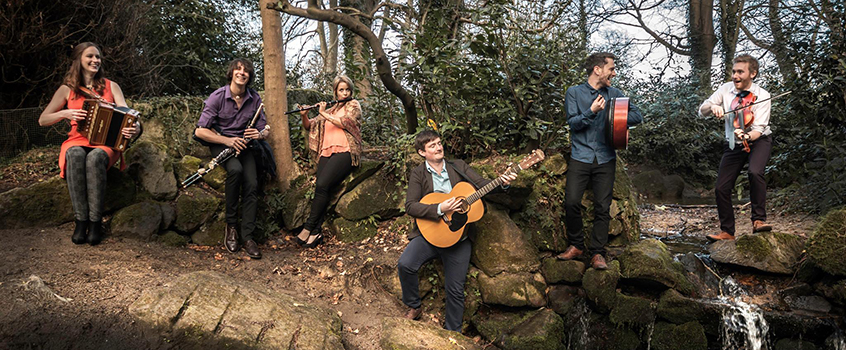 FullSet are one of Ireland's most accomplished and sought-after bands in Irish Traditional Music today. This young and exciting group creates a sound that is full of energy & innovation, whilst all the time remaining true to their traditional roots.
"FullSet was THE breakout band at the Irish Fair of Minnesota 2013.Their energy was infectious and the crowd response was incredible. They were able to connect to all ages, from Mohawked teenagers, to their grandparents. I had heard good things about them, but the musicianship, and stage presence playing live exceeded every expectation I had."
– Mike Wiley, Vice Chair/Entertainment Director of Irish Fair of Minnesota
FullSet have received much critical acclaim in recent years, even being compared to super groups such as Danú & Altan by respected Irish Music Magazine. Their meteoric rise in the music world was given a massive boost in 2011 when they were honoured by being announced as the winners of the RTÉ/RAAP Breakthrough Annual Music Bursary Award. FullSet subsequently went on to receive the "Best New Group Award" from well-respected Irish American News and were also named "Best Newcomer" in Bill Margeson's Live Ireland Awards in 2012. Most recently, the group were honoured to be announced as the "Top Traditional Group" of 2014 at the Irish Music Awards.
Following the tremendous success of their debut album "Notes At Liberty", the group's profile was further raised with the release of their follow up title, "Notes After Dark" in 2013. Irish Music Magazine described it as having "so many good tracks, so much energy, a band in full control and having such fun yet well able to bring things down to a tearful pause". "Notes After Dark" was also named Album of the Year in 2013 by US radio programme "Celtic Connections".
FullSet comprises six of the most talented and versatile young musicians in the traditional Irish music scene today. Michael Harrison, on fiddle, creates a distinctive sound using original and colourful techniques. Martino Vacca is an exceptional uilleann piper and employs his mastery of this instrument in all pieces arranged by FullSet. Talented musician, Janine Redmond, on button accordion maintains a rich traditional style that is becoming ever so rare in traditional music today. Eamonn Moloney on bodhrán and Andy Meaney on guitar, effortlessly blend the music together with a sensitive yet driving accompaniment section. The emotive singing style of Marianne Knight completes the ensemble, which is guaranteed to captivate audiences of every generation.
To date FullSet have been featured on some of Ireland's most prestigious TV and radio programmes including "The Late Late Show", RTÉ's Céilí House and TG4's hugely popular Irish music series "Geantraí". They have worked with Disney and have also performed at some of the most prestigious celtic and world music festivals across North America and Europe, some of which include the Copenhagen Irish Festival, Festival Interceltique de Lorient, Germany's Irish Folk Festival Tour, Guinness Christmas Austria Tour, Lotus World Music & Arts Festival, Dublin Irish Festival, Kansas City Irish Fest and North Texas Irish Festival. They have shared the stage with some of the biggest names in folk and world music including Moya Brennan, Declan O'Rourke, Lúnasa, Carlos Núnez, Andy Irvine, Donal Lunny and Beoga.
FullSet's ability to showcase Irish music, song and dance of the highest quality, in an energetic and fun filled manner has proved immensely successful and they continue to thrill audiences around the world. 2015 is shaping up to be an extremely exciting year for the group as they begin work on their third studio album. Full Set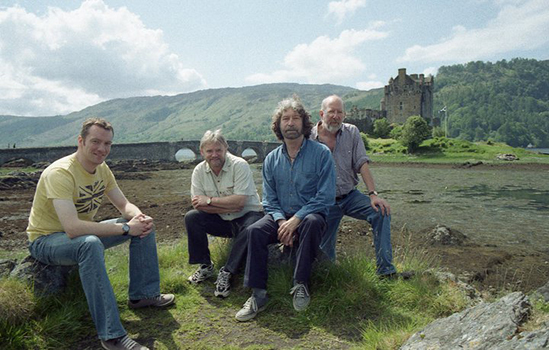 As they approach their 50th anniversary in 2018, the Tannahill Weavers are one of Scotland's premier traditional bands. Their diverse repertoire spans the centuries with fire-driven instrumentals, topical songs, and original ballads and lullabies. Their music demonstrates to old and young alike the rich and varied musical heritage of the Celtic people. These versatile musicians have received worldwide accolades consistently over the years for their exuberant performances and outstanding recording efforts that seemingly can't get better…yet continue to do just that. The Tannahills have turned their acoustic excitement loose on audiences with an electrifying effect. They have that unique combination of traditional melodies, driving rhythmic accompaniment, and rich vocals that make their performances unforgettable. As the Winnipeg Free Press noted, "The Tannahill Weavers – properly harnessed – could probably power an entire city for a year on the strength of last night's concert alone. The music may be old time Celtic, but the drive and enthusiasm are akin to straight ahead rock and roll."
Born of a session in Paisley, Scotland and named for the town's historic weaving industry and local poet laureate Robert Tannahill, the group has made an international name for its special brand of Scottish music, blending the beauty of traditional melodies with the power of modern rhythms. The Tannahill Weavers began to attract attention when founding members Roy Gullane and Phil Smillie added the full-sized highland bagpipes to the on-stage presentations, the first professional Scottish folk group to successfully do so. The combination of the powerful pipe solos, Roy's driving guitar backing and lead vocals, and Phil's ethereal flute playing breathed new life into Scotland's vast repertoire of traditional melodies and songs.
Three years and a dozen countries later, the Tannahills were the toast of Europe, having won the Scotstar Award for Folk Record of the Year with their third album, The Tannahill Weavers. Canada came the next summer, with thousands at the national festivals in Vancouver, Winnipeg and Toronto screaming an approval that echoed throughout the Canadian media. The Regina Leader-Post wrote, "The Tannahill Weavers personify Celtic music, and if you are given to superlatives, you have to call their talent 'awesome'."
Since their first visit to the United States in 1981, the Tannahills' unique combination of traditional melodies on pipes, flute and fiddle, driving rhythms on guitar and bouzouki, and powerful three and four part vocal harmonies have taken the musical community by storm. As Garrison Keillor, the host of "Prairie Home Companion", remarked, "These guys are a bunch of heroes every time they go on tour in the States".
Over the years the Tannies have been trailblazers for Scottish music, and their tight harmonies and powerful, inventive arrangements have won them fans from beyond the folk and Celtic music scenes.  In 2011 the band was inducted into the Scottish Traditional Music Hall of Fame, and in 2014 they are joined by innovative piper Lorne MacDougall. Lorne comes with a high pedigree, having arranged and performed pipes for the Disney Pixar movie "Brave", along with a long list of other accomplishments.
With their impending 50th anniversary in 2018, the Tannahill Weavers are firmly established as one of the premier groups on the concert stage. From reflective ballads to footstomping reels and jigs, the variety and range of the material they perform is matched only by their enthusiasm and lively Celtic spirits.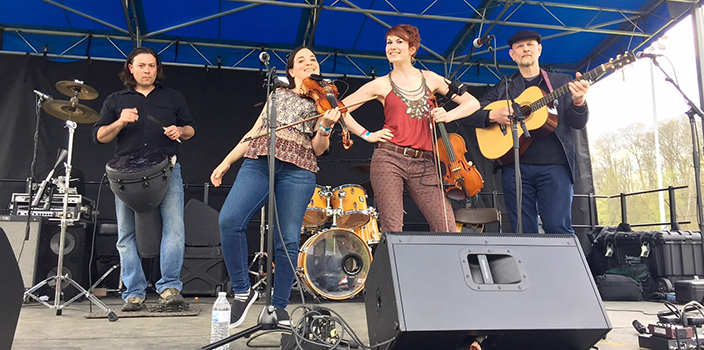 Burning Bridget Cleary has been performing and recording their distinctive style of Celtic traditional music since 2006.
Band-leader, Rose Baldino, drives this band with an unusual combination of charisma, crackerjack fiddle work, and tightly woven harmonies. The front of the band is shared with some of the best Celtic music fiddle talent on the East Coast. Currently featured is Amy Beshara, a multi-talented fiddler/vocalist, from the NYC Scottish music scene. A driving rhythm and bass end is supplied by Lou Baldino on guitar and Peter Trezzi on percussion. Known for their captivating sound and engaging stage presence, Burning Bridget Cleary is currently one of the hottest young acts on the Celtic and folk music circuits.
The foursome has earned a reputation for presenting high-spirited Celtic music at festivals, concerts, and music series all over the U.S., including a 2011 tour to Ireland. While in Ireland, the band had a unique opportunity to visit the rural County Tipperary cottage of their namesake, Bridget Cleary, who is remembered as "the last witch burned in Ireland".
The band broke new ground in 2013 when their fourth CD, "Pressed for Time," hit #1 on the Roots Music Folk and Roots Charts, and finished the year as one of the Folk DJ's most played albums. Their second release, "Everything is Alright", was awarded "2009 Album of the Year" by CelticRadio.net in Boston. Their third album, "Totes for Goats" was formally entered into the Traditional Irish Music Archives in Dublin, Ireland.
BBC's music is featured on hundreds of radio programs worldwide, including syndicated programs, Thistle and Shamrock, FolkScene, SingOut Radio, and The Midnight Special.
Burning Bridget Cleary was listed in Marc Gunn's "Top 20" International Celtic bands for 2014. Burning Bridget Cleary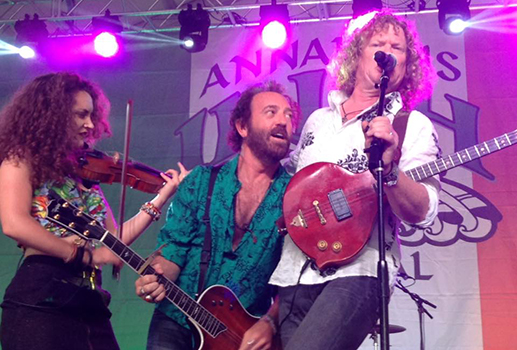 What can you say about Barley Juice that hasn't already been said? In a slur? Kyf appeared in a John Waters movie. Swanny was a member of the Flailin' Shilelaghs. Alice left her beer in the looking glass. John connected his arm freckles with a sharpie, and Eric left his pants in Massachusetts.. Nuff said. Band interests include Drinking, singing about drinking, singing while drinking, drinking while singing. We never drive while drinking, but we do drive while singing drinking songs, which drives others to drink, giving our drinking songs more drive. Barley Juice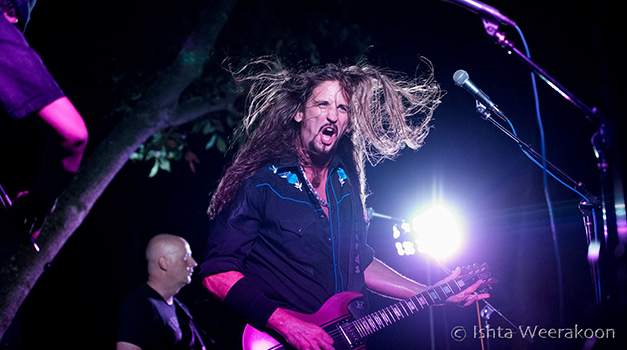 Blaggards (no "the", pronounced BLA' GUARDS or BLA' GHERDS, depending on where you're from) formed July 2004 in Houston, Texas.
We play what we call Stout Irish Rock, traditional Irish celtic music mixed with rock n' roll, informed by everything from Johnny Cash and Elvis Presley to Thin Lizzy and Black Sabbath. We are most frequently compared to bands like Flogging Molly, Dropkick Murphys, and the Pogues.
Blaggards are guitarist/vocalist Patrick Devlin, bassist/vocalist Chad Smalley, drummer Michael McAloon, and fiddler Wes Barlow.
Front man Patrick Devlin grew up in Dublin, Ireland, and moved to Houston in his early 20′s. After working in the local club scene for several years, Patrick saw a demand for Irish rock music that nobody was taking advantage of. In 1996, to this end he formed a band called On The Dole. Although the band did well, opening for legendary Irish touring acts like the Wolfe Tones and the Saw Doctors, eventually Patrick decided it was time to clear the decks and start again.
In 2003, while hosting a weekly open mic at an Irish pub, Patrick met bassist and singer Chad Smalley, a veteran of the Houston music scene who had recently returned from New York and was looking for a new project. The two of them soon began singing and performing together every week, developing a tight vocal harmony style. A year later, Blaggards was born.
Michael, a first generation Scot-American, grew up learning Irish step dancing, winning gold medals all across the United States before picking up the drums at age 13. A veteran of the Houston music scene, Mike has toured the country many times and studied jazz at the University of North Texas. Mike joined Blaggards in January 2009.
Wes Barlow, born in Memphis, Tennessee, and started playing violin when he was ten years old. After relocating to Texas in the 5th grade, he realized that the fiddle was his calling. He started playing in Texas country bands when he was 16, has won several national classical music competitions and performed on multiple albums. Wes joined Blaggards in January 2017.
Blaggards maintain a rigorous schedule, playing constantly throughout Texas and touring nationally several times a year. We've also toured Ireland every year since 2010. Our music has appeared in movies and TV. An original instrumental entitled "Kerfuffleful" appears in the New Line Cinema motion picture How to Be Single, released February 2016.  Blaggards

Paul McKenzie claims he had a epiphany when he was subjected to an Andy Stewart record which was playing in one room, and intertwining with the vulgarity of a Sex Pistols album emerging from another. That year was somewhere around 1992, the setting was Vancouver Canada,and McKenzie was looking for something new, since his band TT Racer had recently disbanded. Who would have thought that a great deal of fun could be had pilfering your parents closet of old kilts and high socks to wear on a stage on which you would perform cover songs of various bands, altered slightly, to fit a scottish theme. Example: I Wanna Be Your Scot as opposed to I Wanna Be Your Dog. You get the point. Someone probably joked, If were gonna wear kilts, we might as well have a piper too.
While certainly not a new angle in celtic music, the bagpipes were only ever used in a couple of songs at most by various bands, never a mainstay of an entire set. Soon though, it was apparent that this was a distinctive sound that could be finely tuned, with the soaring pipes complimenting the ferocious electric guitars and vise-versa. Of course the first thing that springs to mind is the word gimmick. Sure, I guess thats applicable here. But before you go taking things way to seriously, lets also not forget the concept of show buisness. People annually spend a shitload of money for the sole purpose of being entertained. So why not go out of your way to be entertainment? That was all a moot point with the McKenzies anyway. Because they just wanted to have fun, and you are more than welcome to have fun with them, as hundereds of thousands have. Sure some will read too much meaning into the whole idea, and take it out of its realm of fun, and those people should just shut the fuck up and drink their beer.
14 years later, the Real McKenzies have achieved lengendary status. Their live shows are highly regarded and they have been known to leave large audiences choking on their own dry mouths. They've been influence to more than a few bands, and ironically have been accused of ripping those same bands off, usually by journalistic hacks on the internet. They've toured the world endlessly, and frightened more than a few people at times, but its a small percentage to the numbers of people who leave their shows with ear to ear grins and think about the great time they had for weeks to come. I can imagine it will take death to stop these guys from doing what they do best, and that's kicking your ass in the face at each and every show they play. The Real McKenzies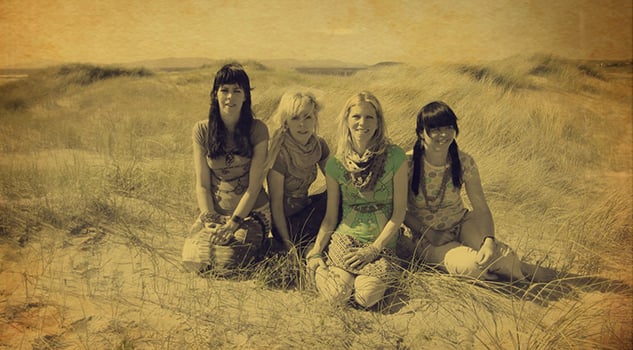 The Screaming Orphans are four fun sisters with the good fortune to have been raised in the magic of Bundoran in County Donegal Ireland.
There is a great tradition of music to be found in Irish homes especially in the Gaeltacht or Irish-speaking areas which have produced the likes of Clannad, Enya and Mairead, Micheal and Triona Ni Dhomhnaill. Our home was no exception. From we were young, we've been singing and playing traditional Irish music but when we hit our teenage years we knew it was time to start our own rock band.
Our first gigs were at local surf festivals at Bundoran and playing covers of the Red Hot Chili Peppers, Indigo Girls, and others. We were soon writing our own music and traveling to Dublin to play the Baggot Inn, Slattery's, Whelans, and Mean Fiddler.
Our next break came with an invitation to play at a St.Brigid's day concert in Kildare along with truly great Irish artists like Christy Moore, Liam O'Maonlai, and Sinead O'Connor. Sinead asked us to be her back-up singers and open her show so we went on tour across Europe, America and Canada, and appeared on David Letterman and other shows.
The following year was spent touring with world music star, Babba Maal, singing at his homecoming concert in Dakar Senegal, and contributing vocals to his album "Nomad Soul." We also recorded with Peter Gabriel and were backing vocalists on the Joni Mitchell track "Magdalene Laundries" for the Chieftains "Tears of Stone" album.
A year later, we signed with Warner UK (WEA) and recorded our debut album in Normandy France with the legendary Mike Hedges, who has been producer for the likes of Siouxie and the Banshees, U2, Manic Street Preachers, Texas, and Travis.
While we can never forget our roots in traditional Irish music, the Orphans draw on a diverse set of influences ranging from Simon & Garfunkel to REM with a strong focus on melody-driven songs with pop and rocks strains. The diversity of the American music scene led us to relocate to New York City and we regularly tour up and down the East Coast.
Being surrounded by so many different influences has inspired us to explore new and exciting song writing and performance concepts. Our latest CDs reflect our Celtic roots but cross many cultural boundaries, which might explain why we recorded "Circles" in Nashville, Tennessee, "East 12th Street" in New York City and "Belle's Isle," "The Jacket's Green," "Lonely Boy," "Sliabh Liag" and "Toy Theatre" in Ireland.
And if you're wondering about our name… A friend of Joan's (Damien Granaghan) came up with it one night at a pub and it meant a lot to us because when we broke out on our own, it meant leaving our Mam who had been our lead singer and our Da who was our manager/road guy/sound engineer and so we became orphans but still surrounded by family and everyone knows that screaming to be heard is what you usually do around close family and dear friends. That and our secondary school used to be an orphanage. There you have it. Screaming Orphans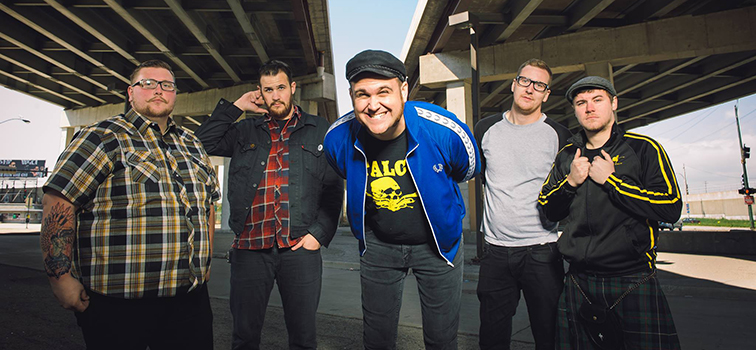 Playing a positive-natured brand of hardcore-tinged Celtic punk, Flatfoot 56 has been unleashing itself upon America and the rest of the world for over 10 years now. Forming in 2000, the Chicago natives achieved nationwide attention with their first two label-backed records, 2006's Knuckles Up and 2007's Jungle of the Midwest Sea. These releases built on a heavy dose of previously established regional notoriety, helping the band gain steam early on.
While each record received its fair share of acclaim, the quintet exploded onto a new level with 2010's Black Thorn. Landing the band on a total of 9 Billboard Charts, Flatfoot 56 proved it could consistently reach an expanding audience while treading in a genre not often associated with widespread success.
Frontman Tobin Bawinkel (vocals/guitar) is now set to lead Flatfoot 56 on in their furious march forward. Armed with brothers Justin (drums) and Kyle (bass), along with Eric McMahon (bagpipes/guitar) and Brandon Good (mandolin/guitar), Flatfoot 56 is now preparing to enter the studio again to record its fourth label-backed studio album.
Like Black Thorn, Flatfoot 56's new album will be produced by the Street Dogs' Johnny Rioux. "We decided that since the last experience with Johnny was so beneficial, we wanted to repeat it," Bawinkel said. "We have been friends with Johnny for years our mutual respect fosters a good creative environment for putting together a record. He knows how to challenge us and push us the next level, which is what any band hopes for."
The band will enter Matt Allison's Chicago-based Atlas Studios in January to record its first release for Paper + Plastick Records. "We have always respected Paper + Plastick's independent approach to putting out records because they always seem to promote the creative side of the album," Bawinkel said. "As a band we all really value that creative vision, and Paper + Plastick is the place to be for that."
While the record is set to be more rootsy and folk-oriented, it promises to pack the same relentless knock-down punch that fans have grown to expect from Flatfoot 56. More than a decade into its career, Flatfoot 56 isn't slowing down, but maintaining a blistering pace of touring and musical output. "The next record's sound is taking on a much more mature, heartfelt tone," Bawinkel said. "We're writing these songs as life gets thrown at us, and as we all get a bit older and start to interpret life in different ways, we want to express ourselves to reflect the victories and defeats that we all go through. We still love whipping the crowd into a frenzy and making everybody dance but we want to write some tunes that people can relate to, and that they can sing along to."
The band's new album, yet untitled, will be released in 2012 by Paper + Plastick in the United States, Stomp Records in Canada, and People Like You in Europe. Flatfoot56
 "Its like growing up with a tear in your eye and a storm brewing in your heart.." muses frontman Frankie McLaughlin on the musical heritage of the group. "We were raised on the Scottish & Irish music in our parents record collection, before colliding head-on with Punk Rock as we grew older & thought we knew everything."
These two immovable pillars define The Rumjacks above all else, as they continue to cut their own path through the tangled musical landscape before them. Their own brand of Celtic Punk has seen them release two EP's – 'Hung, Drawn & Portered' & 'Sound as a Pound' ('09), as well as three powerful full length albums – 'Gangs of New Holland' ('10), 'Sober & Godless' ('15), & 'Sleepin' Rough' ('16).
Since the bands inception in Sydney, Australia in late 2008 when McLaughlin met Bassist Johnny McKelvey, they have racked up millions of YouTube views, with over 24 million of these alone for their breakthrough track 'An Irish Pub Song'. Other stunning videos that capture the incredible live energy of the band include 'Uncle Tommy', 'Blows & Unkind Words' & 'Plenty', while 'Crosses for eyes' and 'Me Old Ball & Chain' see them hard at work in the studio.
The videos for 'Home', 'One Summers Day' weremade while The Rumjacks were on tour, and stand testament to the bands enormous appeal wherever they go.
Their incendiary live performances and seemingly endless touring regime has seen them share the stage with acts as diverse as Dropkick Murphys, The Interrupters, Anti Flag, CJ Ramone, The Real McKenzies, Gogol Bordello, Ruts DC, Guttermouth, GBH, UK Subs and The Aggrolites. "We're at home on any lineup in front of any crowd, I think there are elements of what we do that must appeal to just about anyone."
Indeed there are – from their heavy Celtic roots to the driving punk rock or even ska/reggae rhythms, well-oiled sing-alongs & choking ballads. "We draw on so many influences, but still it's important for us to force the bounds of what we already do, play good solid Punk rock with a fat smear of Celtic folk right through it, Hopefully contributing something fresh & substantial that'll stick around in people's hearts long after the party's over.."
2015 marked a real tipping point for the band, when after wowing home crowds with several appearances at the prestigious Byron Bay Bluesfest in Australia, they embarked on a hugely successful tour of Europe playing to over 50,000 people. Absolutely crushing just about any bands 'must do' list, they took in the likes of Boomtown Fair (UK), Montelago Celtic Festival (Italy) and Jarocin Festival (Poland), as well as sell-out shows at many iconic club venues like The Garage (London), Wild At Heart (Berlin) and Rock Cafe (Prague).
Barely stopping to cool their jets, the band made a triumphant return to the festivals and concert halls of Europe & The UK in 2016, playing almost a hundred dates over some 24 countries. Inciting hysteria & pushing their own physical barriers as they went, the boys chalked up plumb appearances at some of Europe's hottest festivals, including; Punk Rock Holiday, Lowlands Festival, Exit Festival, Rock marathon, Mighty Sounds, Germany's Taubertal & Open Flair Festivals, and Woodstock Festival in Poland, attended by half a million people. Somehow in the midst of all this they managed to release their third album 'Sleepin' Rough. Along with two dynamic new videos for the singles 'A Fistful o' Roses' and 'Patron Saint o' Theives' (the latter shot in Poland on a rare day off during their EU tour) the album has been met with critical acclaim the world over.
2017 see's The Rumjacks make their long awaited maiden foray into the USA & Canada. Where they will tear their way around from San Diego's tin roof in the gaslamp quarter, through New Orleans, Austin Texas for the SXSW Festival & up along the east coast into Canada. They'll return again in September after some more EU summer shows, to headline California's Get Shamrocked festival. The Rumjacks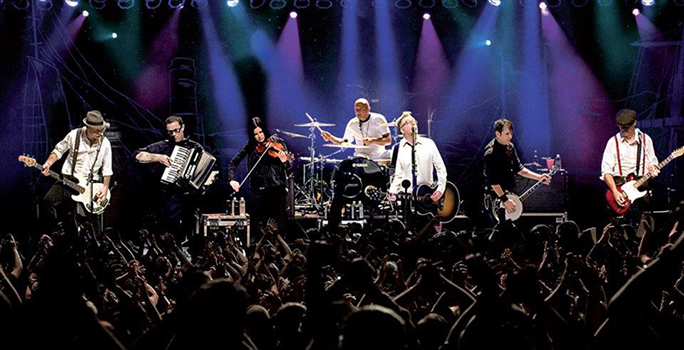 The social and political awareness that drives Flogging Molly's celtic music is never more prominent than in their upcoming new release LIFE IS GOOD – a strikingly powerful album and it arrives at a strikingly key time. The sixth studio album by the renowned Celtic-punk rockers now in their 20th year is mature, well crafted, equally polished and almost aggressively topical. It is filled with rousing songs that are timeless in their sentiment, but directly related to today's most pressing concerns: Politics, the economy, unemployment, planned boomtowns gone bust, immigration policies gone awry, and much more.
For singer and lyricist Dave King, it may be the lyrical couplet contained within the surging "Reptiles (We Woke Up") that points toward the album's central theme. "We woke up," sings King, "And we won't fall back asleep."
"The thing is, there are things changing," says King. "That's why I wrote that line, 'Like reptiles, we'll all soon be dust someday.' It's quite scary, especially for somebody who has children these days–bringing up family in this environment of who's welcome and who's not welcome. I'm talking about the cultures in America and the UK–especially American immigration.
Life Is Good thus serves as a wake-up call to those who have simply stood by while far-reaching political decisions were made that had serious impact on them. And, significantly, it also serves as notice that the time for action is now.
And people are indeed taking action, adds King, which is a crucial point.
"I think especially with things like government–I think we all tend to fall asleep a little bit when it comes to other people that are making decisions for you. I think we should be the ones influencing the government to make these decisions. It's a great thing that we're now taking to the streets again. And it's a positive thing."
Imagery abounds on Life Is Good, and one of the most memorable images might be found in "Adamstown," the saga of a planned community west of Dublin that came to a halt in mid-construction a decade ago when the Irish economy crashed–and left little more than a ghost town in its place.
"It had a huge negative connotation to it," King says of the eerie, unfinished settlement. "But now it's starting to turn again, people are starting to move there, businesses are starting to open, and there is hope."
Thematically, hope and inspiration are a major part of "The Hand of John L. Sullivan," a rollicking track about the legendary "Boston Strong Boy" who was the first ever heavyweight champion of gloved boxing from 1882-1892. Sullivan was a hero to many, and his story has a cultural significance that fits squarely within the story Flogging Molly want to tell with Life Is Good.
"He came from an immigrant family to Boston, and they brought their family over to try to make the best possible world for them," says King. "We live in an environment right now where that doesn't seem to be what should be allowed to happen, you know?
Recorded in Ireland and produced by multiple Grammy Award winner Joe Chiccarelli (U2, the White Stripes, Beck), Life Is Good is by any measure a formidable return from Flogging Molly, an assessment with which Dave King fully agrees.
"It's been a tough few years for a lot of us in the band. Dennis (Casey, guitarist) lost his dad, I lost my mother, and there have been certain issues, pertaining to sentiment, in a lot of the songs. But we just try to do the best we can. We've always had fun getting together and coming up with the new songs, and it's still that way.
Here we see what's uniquely distinctive about Life is Good, as the gravity and weight of these themes never overshadow the sheer fun and exuberance felt in each song. For the message is delivered and built on the backs of boisterous and barreling live touring.
"We're known for our live shows," says Dave King. Writing albums has always been a vehicle for us — it's been a means to get people onto the dance floor. And that's kind of the way we've always approached it, no matter what."
"The one thing we are is a positive band," adds Dave King. "When people come and see our shows, it's a celebration–of life, of the good and of the bad. And we have to take the good and the bad for it to be a life."
FLOGGING MOLLY IS: Dave King (Lead Vocals, Acoustic Guitar, Electric Guitar, Bodhran), Bridget Regan (Violin, Tin Whistle), Dennis Casey (Acoustic Guitar, Electric Guitar), Bob Schmidt (Banjo, Mandolin), Matt Hensley (Accordion, Piano, Concertina), Nathen Maxwell (Bass Guitar), Mike Alonso (Drums, Percussion). Flogging Molly