To further our commitment to Celtic culture, USA Kilts is teaming up with musicians to advance the spread of Celtic music across the globe. We've partnered with Albannach to give away 800 CD's and 70 DVDs.  While supplies last, USA Kilts orders over $25 will get a free Albannach CD and orders over $100 will get a free Albannach DVD.  Promotion begins July 26, 2017.
The first in our Celtic music series of interviews, we sat down with James Johnston from the band Albannach to ask him a few questions.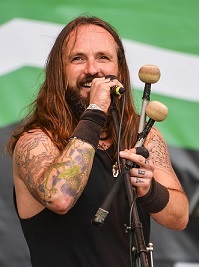 USAK:  When / Where did the band form and what is the origin story?
James Johnston:  Albannach started in 2006 although some of the band members had been in another Pipe and Drum band previously.  That lit the fire for what you see on stage now, Albannach.
USAK:  What age did you start playing music?
James Johnston:  I was a late starter into the music scene myself, not starting till about my mid twenties. My life was on a very different course until the drumming came along, so to be honest I didn't have plans to step into this crazy world of music.  It kind'a all just happened. I guess I have just let the music take me on a journey. It's scary at times because I am not always at the wheel of this crazy train.
USAK:  Who were your musical influences?
James Johnston:  I remember my first ever time listening to Pink Floyd and being blown away by the lyrics and the tunes. As a young lad, I felt that I could relate to the words, growing up and rebelling against everything the grown up world was telling me I should be doing. As I got into the music scene myself, I truly believe strange as this sounds that Pink Floyd had an influence on the tunes that we would write as Albannach. Yeah I know, Bagpipes and drums where does Pink Floyd come into that?  But it's there, lurking in the background, trust me. I would also give credit to Lemmy and the band Motorhead for fueling the drive and passion that comes out when we perform "WE ARE ALBANNACH and WE PLAY PIPES AND DRUMS!!"
USAK:  What brand / model instruments do you / the band play?
James Johnston:  The Drums we play are simply 8 ply maple shell bass drums supplied by a company called Kellar who supply all the raw shells for companies such as Pearl and DW.  Custom leather work and hand forged iron tensioners help give us the look we are after: battered War drums!
USAK:  What was the funniest thing that happened to you on the road?
James Johnston:  There are so many stories from the road that it's hard to put my finger on just one. I mean 15 years touring with a bunch of nut jobs does give you ammunition for crazy stunts ranging from boozing with the mafia in Russia to playing darts with 7 foot tall 'ladies of the night' in South Korea.  There are too many crazy times to recount and you couldn't print most of them. Some things best left to the imagination.
USAK:  What is your favorite song to play live?
James Johnston:  I think my favorite song to play with the band is a track we call Tweedle Dee. I love the flow of the tune and how the pipes float. It's also a crowd favorite, so I love the energy we get from the fans while we play it.
USAK:  How important is it to have Celtic influence in your music?
James Johnston:  To maintain a Celtic influence in our music is vital. Our love of Scotland is what got us started in the first place.  Now we spread the history and the culture as we travel on. Yeah we may sometimes drift off the path a little, but we will always stay true in our hearts to Scotland and our Celtic roots.
USAK:  Name ONE Other band in the Celtic Music scene who you think are doing an awesome job or are talented and tell us why you feel that way.
James Johnston:  Touring all the time we get to share the stage with some braw bands and to be honest some not so braw bands. Haha. One that I am really enjoying working alongside right now is the all girl band from Ireland, The Screaming Orphans. The level of talent is sky high from the harmonies, to their instrument playing, to the stage craft they display. They are also the most down to earth band you'll meet.  Sweethearts the lot of them.
The Florida based Celtic rock band Rathkeltair is another band that blow me away each time I hear them.  Again, off the charts talented and their song writing skills via lead guitarist Trevor Tanner are pretty amazing. If its Celtic rock you're after, that would be the horse I'd back.
USAK:  What do you do when you're not performing or on tour?
James Johnston:  In between all the US touring  We also do our own musical tours to Scotland which we call BRONACH where we team up with old friends from the band Brother and work alongside Bill and Karen Reid from East of the Hebrides entertainment. These are amazing trips that give us a chance to showcase our beautiful homeland, while playing music for some of the nicest people you'll ever meet.
On a personal note, I have also started my own hiking tours of Scotland. These are the moments where I can plug back into mother Scotland and have the honor of guiding folk along with me.  Hiking is a passion of mine, so I feel blessed to be able to call this a job!
USAK:  What Social Media do you use the most if fans want to connect with the band?
James Johnston:  I think when it comes to social media, we are much the same as every other band out there.  We knock the hell out of Facebook. It's a great way for connecting with nearly everyone out there and spreading the news about your gigs and what the band is up to.  I like Instagram too.  It's not as detailed as Facebook, but it's fun posting pictures that you wouldn't put on facebook.  More day to day stuff.
USAK:  What are the future plans for the band? 
James Johnston:  Right now our plans are to keep touring and working as hard as we can, while also trying to find time to get the long awaited 4th studio album completed. It's really all about time and how to fit everything in. We will mange though. It's what we do.  Hammer down!
USAK:  Any words of advice for budding musicians?
James Johnston:  If any young musicians asked me my advice, I'd say fix a time frame in your mind that you want to be out gigging and playing shows.  Be it a 3 year deal or a 5 year deal, but fix that timeline and make it happen. Get your head down and practice, network and be original.  Own what you do and don't conform to what the man tells you to be!
For tour dates, visit Albannach's website:  http://www.albannachmusic.com/tour/
To get a free copy of Albannach's cd "Evolution" (while supplie last), place an order over $25 through our website.  For a free CD & DVD (while supplies last), place an order over $100.